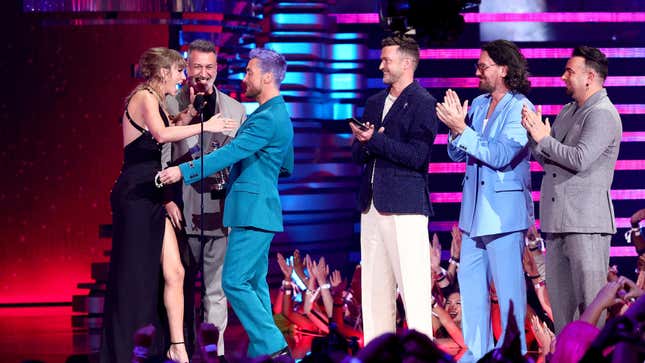 The looming promise of potential Doja Cat antics, another Taylor Swift record break, and a long-awaited NSYNC reunion may go a long way, but nothing can fully resuscitate the half-alive corpse of the once-vibrant Video Music Awards. We're really never going to get another 23-year-old ingenue pretending to bleed out on stage mid-performance, huh? We probably won't even get a pithy little meat dress (or Cher being forced to participate in said meat stunt) ever again. Sad.
The FBI wants Swifties to know snitching is actually cool
Still, a respectable number of people tuned in to watch Olivia Rodrigo fake tear down the house and Shakira actually (metaphorically) tear down the house. More viewers, in fact, than in any other year since the pandemic.
According to Deadline, the broadcast saw its best ratings since 2019 last night, with a 37% jump in viewers from last year. 865,000 people tuned in to watch last night's Nicki Minaj-hosted event (although how many of those stayed through its entire, 4-hour run time is unclear), as opposed to just 630,000 last year. The broadcast also saw a 118% jump in the 18-34 year old demographic, ostensibly the most important for the show, although it still can't really seem to decide whether it wants to play on nostalgia or focus on courting exciting, new performers. (That said, these are just initial numbers, according to Deadline. Final tallies are likely to be a little higher.)
While this is undeniably a win for MTV and hopefully a harbinger of bigger, brighter lineups in the future, it's still nothing close to the show's former (and probably forever) peak in 2011, when Beyoncé's surprise pregnancy announcement and Lady Gaga's gender-bending performance brought a massive 12.4 million viewers to the stream. Not even Best New Artist Ice Spice (of Ben Affleck cinematic universe fame) or an alleged (but likely fabricated) Megan Thee Stallion vs. Justin Timberlake fight could bring in those sorts of ratings today.