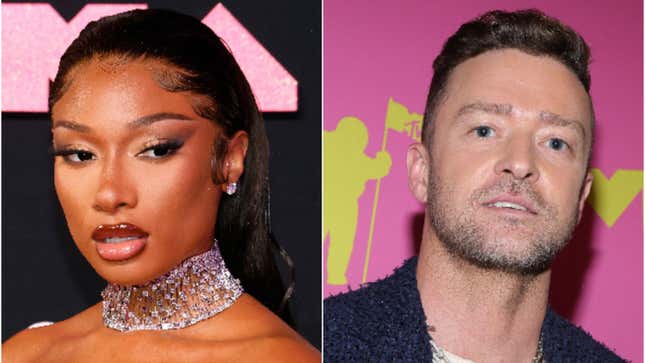 The MTV Video Music Awards have taken a dip in relevancy in recent years, but it used to be a home for pop culture drama. From Courtney Love crashing Madonna's red carpet interview to Nicki Minaj declaring, "Miley, what's good?" to—of course—Kanye West snatching the microphone from Taylor Swift's hands, the VMAs was once synonymous with scandal and controversy. By comparison, the shows in recent years have been completely tame and, frankly, defanged. Living through a VMAs drama drought, it's now wonder fans were eager to believe Megan Thee Stallion told Justin Timberlake off backstage at the 2023 show.
Food Network host Jonathan Bennett dishes on "Halloween Wars"
The perceived beef began when cameras caught Timberlake approaching the rapper, only to be rebuffed with an emphatic wave of her finger. There was no audio to accompany the moment, and it was caught a bit far away, but Megan turned away and seemed to roll her eyes, looking displeased. The Internet pounced on the out-of-context clip and immediately took sides: "GET HIM MEGAN," "STAY AWAY FROM HER," and "No idea what's going on but I'm on her side" were among the responses from Twitter/X users.
Unfortunately for the drama-thirsty audience, somebody's public relations team was quick to reframe the narrative. Within an hour of the video circulating social media, a source explained to Entertainment Tonight that there was no fight. Instead, Timberlake apparently said "It's so nice to meet you," to which Megan replied, "No, no! This don't count, this don't count! We gotta meet proper." The insider added, "Meg loves Justin. She was saying 'No, no, no, we've never met before.' It was their first time meeting and she was excited."

@theestallion I just talk with my hands lol 💁🏽‍♀️see ya next time @Justin Timberlake ♬ Fukai Mori - Do As Infinity
Megan confirmed that all was well on her own social media, posting a video of the pair later seemingly having a great time. Lip readers will have to decipher what's actually said, as she swapped their conversation out for loud music instead. "I just talk with my hands," she captioned the post with a shrugging emoji. (And it's true: there are a lot of gestures in the video she posted.) "lol @justintimberlake love ya."

In other words, this one turned out to be a nothingburger, folks. Hopefully, the next celebrity feud turns out to be more substantial.