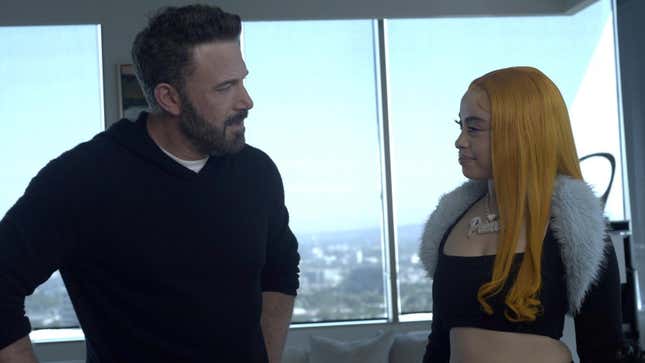 The Patron Saint of Dunkin Donuts has blessed us with another television spot, this time featuring a special guest. So far in the Ben Affleck/Dunkin oeuvre, he's been a man of the people, taking orders at the drive-thru window or patiently waiting in line for his own Dunks with the rest of the plebs. But this time, he's the big shot behind the desk, coaxing a collab out of rising star Ice Spice.
Clooney and Streep donate millions for striking actors
If you've been keeping up with Affleck's journey up the Dunkin corporate ladder, you may note that his Boston accent has gotten thicker along the way to be almost incomprehensible in his conversation with Ms. Spice. He is also hilariously preoccupied with authenticity, explaining in a previous ad that he wanted the ad to be "authentic and meta." This time, he notes, "with social media, the kids, it's gotta be authentic."
Ice Spice can authentically bring her fans, the Munchkins, to the table, but she's not that into Affleck's other ideas. There's a bit of a classic odd couple Gen X/Gen Z situation going on as Affleck attempts to "spit bars" at her and she reacts in silent horror. Elsewhere, Affleck purports a complicated algorithm for creating a new Dunkin beverage before the young rapper solves the crisis by dropping a munchkin on top of her iced coffee.
Yes, this is a commercial for what sounds like the brand's most disgusting drink yet, the Ice Spice MUNCHKINS Drink. Feeling that "Pumpkin spice season has gotten a bit predictable lately," the company decided to "create a new pumpkin obsession that only Dunkin' can offer," per a press release. It's a frozen coffee with pumpkin munchkins blended in (an unverified graphic going around Twitter/X suggested there's only a few pumps of coffee syrup total in the drink, making it sort of barely coffee at all).
"I've always been a Dunkin' girl!" Ice Spice said in the commercial (and the press release). "Collaborating with Dunkin' and Ben Affleck on this spot was a dream. The drink has a fun twist, a little something in the name for my fans, too. I can't wait for everyone to try it."