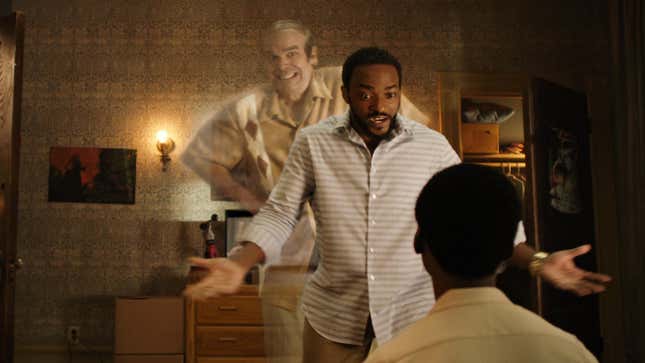 Writer-director Christopher Landon's Freaky and Happy Death Day 2U cleverly function as Trojan Horses: breezy horror-comedies used to subtly smuggle in palpable amounts of poignancy dealing with familial anxieties. We Have A Ghost is no different in that regard; however, it contains an even slighter degree of heartrending melancholy to match its zany hijinks. Or maybe it just feels that way once we get to the emotional dénouement a full two hours into this tale about an uprooted family finding a lost soul caught in limbo. Taking its cue in tone partially from Beetlejuice, it experiences a shaky transition from short story (Geoff Manaugh's "Ernest") to full-scale feature. What should be a tight 90 minutes turns into a much longer commitment that, while spirited, is too sluggish for its own good.

The A.V. Club's 5 last minute Halloween costume ideas
Kevin Presley (Jahi Winston) has just moved to a new home in the Chicago suburbs and isn't very happy about it. Not only is the Victorian-era house in noticeable disrepair, overgrown with vines and cobwebs, he feels he's a victim of circumstance due to his father Frank's (Anthony Mackie) failed get-rich-quick schemes. This has also left Kevin's older brother Fulton (Niles Fitch) and mom Melanie (Erica Ash) approaching the family's fresh start with a great deal of apprehension and worry. Yet their fears are ironically about to be laid to rest once Kevin meets someone special—and no, it's not next-door-neighbor Joy (Isabella Russo), a tech-savvy, Manic-Pixie-Dream-Girl-adjacent love interest. She's not the one who shakes up his world.
It's Ernest (David Harbour), a balding, bowling-shirt-sporting, middle-aged ghost haunting the Presleys' attic. After the specter's attempt to spook Kevin quickly bombs, Ernest befriends the young teen. Kevin suspects that his new bestie is stuck between realms and needs help with some unfinished business. What that entails remains a mystery, as Ernest has amnesia and can't properly communicate. Meanwhile, Frank and Fulton have caught wind of the pair's blossoming friendship and seek to exploit Ernest online, posting videos, slinging merchandise, and scheduling ill-advised TV appearances. As a frightening social media following amasses, Ernest's presence also alerts authorities like Dr. Leslie Monroe (Tig Notaro) and CIA Deputy Director Schipley (Steve Coulter), whose nefarious plans are to study Ernest, thus blocking his quest to find peace and cross over.

G/O Media may get a commission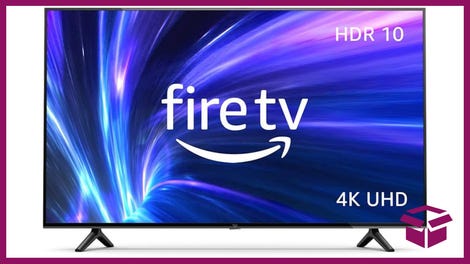 42% Off
Amazon Fire TV 50" 4K Smart TV
To say this feature is overstuffed is an understatement. It's teeming with good ideas, but too many of these concepts aren't used in an innovative way that economizes its time. Instead of having scenes pull double or triple duty, simultaneously layering in the characters' internal and external stakes within the hilarity, action, and spectacle, scenes establish one thing at a time, parceling out information and emotion when they should be intertwined. Giving Kevin a smart, sassy pal like Joy in whom he can confide is a nice touch, but is ultimately non-essential as Ernest also pulls him out of his shell in almost the same ways. Cutting other superfluous components, specifically everything dealing with the vendetta-driven Dr. Monroe and the CIA, in favor of our core characters' motivations could've helped tighten the pace and energetic rhythms.
That said, for the most part, the short story's scenarios have been updated to the characters' betterment—softening Frank from a one-dimensional, self-centered guy to a flawed father working through his troubles, and swapping the brothers' personalities and arcs. The narrative benefits from structural changes as well, shifting to a cleaner, clearer format and focusing on a younger protagonist, which makes the Amblin-adventure-inspired antics ring louder. Big action sequences justify their inclusion, from the crackling police pursuit once the kids hit the road with Ernest to Ernest's body-contorting, face-melting introduction to medium Judy Romano (played by a vivaciously unhinged Jennifer Coolidge).
A warm, light-hearted buoyancy is wisely fused not solely with the script's comedic flexes, but also with Marc Spicer's saturated cinematography and Jennifer Spence's production design choices, especially the autumnal-colored stained-glass window that relishes its multitude of movie moments. While Mackie and Winston's performances shade their father-son relationship dynamic in beautiful coloring, it's Harbour's understated, wordless work that resounds, possibly having been dealt the tougher task to act with nary any dialogue and without going too broad.
Despite the clear-eyed intentions fueling much of the film's drive, extraneous elements padding the source material compound in the interminably long second act, which is then followed by an expository, clumsily assembled finale. Closure is inevitably attained, of course, but at a cheapened cost that dramatically lessens the impact of its main characters' journeys. And that's truly dispiriting.
We Have A Ghost premieres February 24 on Netflix