Breathe a little easier, James Cameron. Yes, The Force Awakens has demolished your one-two punch at the top of the all-time domestic charts, passing both Titanic and Avatar to become the biggest hit in American box-office history. And yeah, it could still do the same to your beloved blockbusters on a global scale, though a billion dollars is a pretty big safety buffer separating your blue tree friends from the rebel scum gunning for their title. But even if that seventh Star Wars movie does push its way past your double feature on the international stage, there's one accomplishment it officially will not be matching: The Force Awakens will not be sitting pretty at the top of the U.S. box office for 15 weeks in a row.
Titanic did that, back in 1997. It opened in December and just sat there, planted in first place, until the beginning of April. Every weekend for four months, new movies would open, fail to dethrone Titanic, and then disappear into the void from which they came. People just kept seeing that damn thing, didn't they? And remember, Titanic lasts for an ass-demolishing 194 minutes. That's less tickets for any given movie theater to sell every day—though let's be real, most multiplexes were keeping the Oscar-winning behemoth on at least a couple screens for its entire run.
The Force Awakens, on the other hand, just ended its magic streak atop the U.S. box office. Four weeks is nothing to sneeze at, and again, J.J. Abrams' runaway hit is still making big money and smashing records. Hell, it could conceivably crawl back to number one, especially with the limp crop of wide-release movies opening this coming Friday. But the consecutive-weeks-at-the-top record Titanic set almost two decades ago is safe for now. And considering today's expanded entertainment options and larger number of event movies coming down the pike at any given time, something tells us that monopolizing the box-office in the way Titanic did may be an achievement set in stone. Is that kind of cultural phenomenon even possible anymore?
By the way, it was Ride Along 2 that knocked The Force Awakens from its perch—a slightly less embarrassing replacement than that Matt LeBlanc Lost In Space movie that finally, climactically ousted Titanic. The Kevin Hart-Ice Cube vehicle won the weekend with $34 million, which is a bit less than what the original did a year ago this time. With $25 million, The Force Awakens was actually number three behind The Revenant, which added $29.5 million to its haul; at $87 million against a $135 million budget, Alejandro González Iñárritu's film is officially a big hit, especially if you factor in robust international ticket sales. All this money bodes well for the DiCaprio vehicle's Oscar chances, because yes, the Academy likes a hit, too. (Remember Titanic, guys?)
Speaking of Oscars, most of the Best Picture nominees still in theaters got a boost from the nominations, as your parents became aware of Brooklyn, Spotlight, and Room, while The Martian—the biggest hit of the eight-film lineup—reached the crowd who decided they'd finally see that other space movie, fine. (The Big Short actually took a small dip, which this writer is choosing to see as the price of being the worst of the Best Picture nominees.) As for the genuinely new movies in release, Michael Bay's 13 Hours grossed just $16 million, officially slamming the brakes on this military-action-movie trend of the last two Januarys, while Norm Of The North managed $6.6 million from parents who don't read film reviews and are officially tired of Star Wars. Four weeks isn't 15 weeks, but it's still more than enough time to see a movie so many times that you'd rather watch Rob Schneider as an animated polar bear than see it again.
G/O Media may get a commission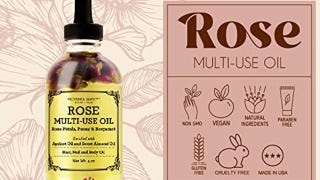 Provence Beauty Rose Multi-Use Oil
For more detailed numbers, visit Box Office Mojo.