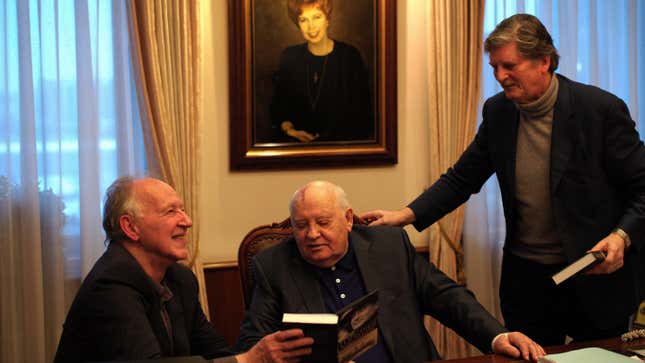 Werner Herzog has made himself such an effective brand name in documentary filmmaking that it's become difficult not to approach some of his projects with a degree of cynicism. That's not to suggest that he ever phones it in, exactly—Herzog is a man of almost boundless curiosity, capable of being genuinely, even passionately, interested in virtually any subject. But he's still aware of who's buttering his bread, and the most salient question about a Herzog doc these days is often, "What entity commissioned this?"

Why Robert Rodriguez still loves "Spy Kids"
Meeting Gorbachev, as it turns out, didn't even arrive at Herzog's doorstep directly. A German public-TV outfit, MDR, pitched the idea to André Singer, who's worked regularly with Herzog as a producer for over 20 years. Singer then brought Herzog on board, and they're jointly credited as the film's directors, though it's Herzog who conducts the interviews and provides his trademark voice-over narration. That provides a key marketable element for what's otherwise a run-of-the-mill biographical portrait with no clear reason to exist, apart from celebrating a man who Germans lionize for his indirect role in their country's unification. It's yet another documentary targeted primarily at people who don't like to read.
Indeed, the film's first 30 minutes or so basically amount to Herzog reading the former Soviet leader's Wikipedia entry aloud, accompanied by stock archival footage of bread lines and tractors. We get a précis of his impoverished childhood, of the 20-hour days he worked on a combine harvester with his father, of his early interest in politics. Herzog wraps his thick accent around such meme-ready phrases as "Here, a satire on the decadent boogie-woogie, the dance of the class enemy, America." Occasionally, an opportunity arises for cinematic effect; the film has some morbid fun with the turbulent period just before Gorbachev took power, when three consecutive Soviet leaders—Leonid Brezhnev, Yuri Andropov, and Konstantin Chernenko—all dropped dead over the course of roughly two and a half years. (The famous somber funeral march from Chopin's Piano Sonata No. 2 becomes hilarious through repetition.) Mostly, though, Meeting Gorbachev just speeds through one of the most significant chapters of modern world history, touching briefly and superficially on the political innovations (perestroika, glasnost) that led to Mikhail Gorbachev suddenly being the leader of a country that no longer existed. For those completely ignorant of how the Cold War ended, this film offers a succinct recap. But again, that's what Wikipedia is for.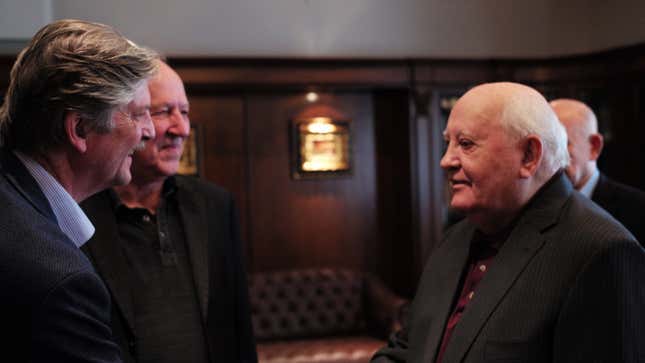 What of the meeting with Gorbachev promised by the title? Herzog sat down for several interviews with the man, who's now 88 but still entirely lucid. Unfortunately, he lobs him softball questions and gets correspondingly bland answers. Given the opportunity to speak with one of the minds behind START I, the most important arms-control treaty ever negotiated, Herzog chooses not to delve into the details, instead naïvely asking why nuclear weapons still exist at all. Gorbachev can only reply that he wishes they didn't. Next question! It doesn't help that both men are receiving simultaneous translation through earpieces, which means that we're regularly treated to long seconds of awkward silence that make it appear as if Gorbachev has forgotten what he wanted to say (when he's actually just waiting for Herzog to catch up before continuing).

Conversations with other former world leaders from the late '80s and early '90s, like Germany's Helmut Kohl and Poland's Lech Walesa, are often of more interest; Walesa, in particular, is quite candid about having supported Gorbachev's reforms because he knew that they'd inevitably lead to communism's collapse. And the movie finally achieves some belated emotional power when it addresses, in its final minutes, Gorbachev's beloved wife, Raisa, who died of leukemia in 1999. It does so, however, via clips from an entirely different documentary, Vitaly Mansky's Gorbachev: After Empire (2001). Why not just watch that film, since Meeting Gorbachev never so much as mentions any event that's happened since? (We see Putin in archival footage of Raisa's funeral, but he's otherwise ignored.) The cynical reason: It lacks brand awareness.