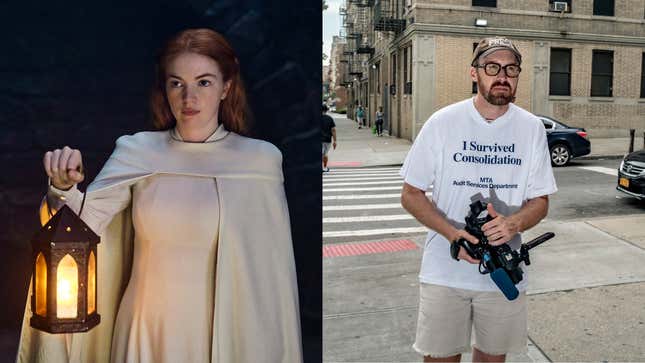 Welcome to the weekend edition of What's On. Here are the big things happening on TV from Friday, September 1 to Sunday, September 3. All times are Eastern. [Note: The weekly What's On will publish on Sundays.]

Rachel Bilson on "Accused," "The O.C.," and more
---
1. The Wheel Of Time spins its way into season two
Prime Video, Friday, 12:01 a.m.: The Wheel Of Time, a complex fantasy epic based on the book series of the same name, returns for a second season. The show follows Rosamund Pike's Moiraine, a member a powerful organization of women who can channel the One Power. Prime Video has already renewed the series for season three. Here's a bit from The A.V. Club's review of the new batch:
"To put it bluntly, the second season is an improvement on the first, not least of all because it feels more assured. Everything that showed such promise about the first season—the outstanding performances, the worlds so real that you feel like you can reach out and touch them, the rich lineup of female characters that aren't forced to parade around naked to be ogled and shamed simultaneously—are more than just still there. They're somehow richer and more engrossing."
---
2. How To With John Wilson waves goodbye
HBO, Friday, 11 p.m.: It's time to bid farewell to John Wilson's brilliant slice-of-life comedy, in which the New Yorker gives tutorials while dealing with his own personal issues. Look for The A.V. Club's interview with Wilson about the series finale after it airs and revisit our A-grade review of the third and final season. 
---
3. Disenchantment arrives (one final time)
Netflix, Friday, 3:01 a.m.: Matt Groening's animated comedy Disenchantment is ending after its its fifth season. In the fictional medieval European kingdom of Dreamland, alcoholic princess Bean (Abbi Jacobson), her personal demon Luci (Eric André), and their elf companion Elfo (Nat Faxon) uncover a mythical conspiracy. The voice cast also boasts Matt Berry and Sharon Horgan.
---
4. Love Is Blind presents After The Altar
Netflix, Friday, 3:01 a.m.: If you participate in Love Is Blind, you have to pay the price. And in this case, that price is a reunion titled After The Altar. These episodes catch up with three couples who actually got married in the season-four finale of the reality series. Prepare for some heightened drama (that's likely fake).
---
5. It's almost spooky season with Perpetrator
Shudder, Friday, 3:01 a.m.: Jennifer Reeder's horror film Perpetrator centers on Jonny (Kiah McKirnan), a reckless teen who lives with her Aunt Hildie (Alicia Silverstone). When several girls go missing at school, a feral Jonny, who just turned 18, hunts the culprit. Chris Lowell and Melanie Liburd co-star.