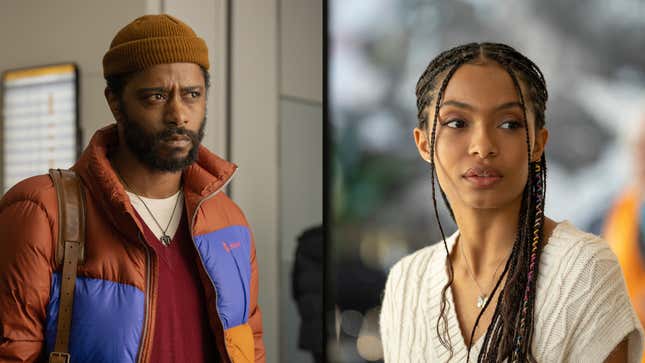 Welcome to the weekend edition of What's On. Here are the big things happening on TV from Friday, September 8 to Sunday, September 10. All times are Eastern. [Note: The weekly What's On will be published on Sundays.]

Why Robert Rodriguez still loves "Spy Kids"
---
1. The Changeling brings on the scares
Apple TV+, Friday, 12:01 a.m.: The Changeling, based on Victor LaValle's novel of the same name, follows Apollo Kagwa (LaKeith Stanfield), a book dealer who goes in search of his missing wife, Lillian (Adina Porter), after she does something horrific once their first child is born. It leads him on a death-defying odyssey through a New York City he didn't know existed. Here's an excerpt from The A.V. Club's review:
Lakeith Stanfield, a father himself and an actor whose body of work resonates with Lavalle's style of storytelling, so beautifully portrays our hero (and seeming LaValle stand-in) Apollo Kagwa. It's perfect casting. He's understated, mostly, but can burst into gleeful moments of theatricality when moved by joy, doing voices and putting his whole body into his bits. He's also genuinely funny for a lead in a scary show, a credit to the writing as well as his own comedic sensibility. And he can translate Apollo's pain so palpably that we feel it in our viscera.
---
2. Yara Shahidi leads Sitting In Bars With Cake
Prime Video, Friday, 12:01 a.m.: In Sitting In Bars With Cake, Yara Shahidi plays a quiet baker named Jane whose best friend, Corinne (Odessa Z'ion), convinces her to bring a cake to 50 different watering holes in the hope of making friends and forming relationships. Corinne falls ill with an unfortunate diagnosis, but she's determined to make their plans come true while Jane takes on the duties of her BFF's caretaker. Ron Livingston and Bette Midler co-star.
---
3. Spy Ops sheds light on MI6 and CIA agents
Netflix, Friday, 3:01 a.m.: The eight-episode docuseries Spy Ops digs into the lives of intelligence operatives from MI6 and the CIA. During exclusive interviews, they share insider stories about surveillance, Cold War campaigns, Taliban missions, coups, and more.
---
4. Norman Reedus takes a ride with Keanu Reeves
Sunday, AMC+, 10:30 p.m.: Ride With Norman Reedus is getting bigger and starrier. The reality series returns for season six (airing after the linear debut of Reedus' own The Walking Dead: Daryl Dixon) and follows Reedus and Keanu Reeves as they cruise through mountains and deserts. Later eps of the show promise notable cameos like Josh Holloway and Johnny Knoxville.
---
5. Netflix streams Spanish thriller Burning Body
Netflix, Friday, 3:01 a.m.: El Cuerpo En Llamas (or Burning Body) is a fictionalized take on the real-life 2017 murder of Pedro Rodriguez, a city guard whose charred remains were found in the quiet town of Cubellas. The show unravels how a complex love triangle led to violence, a sex scandal, and his death. The series is led by Money Heist's Úrsula Corberó.
---
6. This week's loveliest new K-drama is A Time Called You
Netflix, Friday, 3:01 a.m.: Netflix adds to its enviable roster of heartwarming South Korean dramas with A Time Called You. The fantasy rom-com centers on Jun-hee (Jeon Yeo-been), whose boyfriend passed away a year earlier. Still deep in mourning, she travels back in time to 1998, waking up in the body of a high schooler. And as she navigates a new reality, she meets someone who bears an uncanny resemblance to her deceased partner.