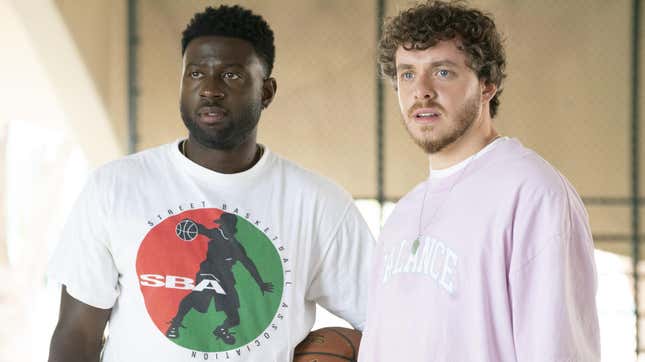 On the heels of his interracial romantic comedy You People, which arrived earlier this year on Netflix, comes Kenya Barris' remake of the 1992 interracial buddy comedy White Men Can't Jump, which arrives May 19 on Hulu. Race is often on Barris' mind, as anyone knows who's seen his television programs, from Black-ish to Black Lightning to #BlackAF. His frank and straightforward way of speaking to issues of race has been refreshing and occasionally enlightening. The blunt talk in You People makes you squirm as you giggle; the movie's comedic currency is people saying the quiet part out loud, perhaps hearing themselves for the first time. The new WMCJ, though, is never particularly enlightening and is less funny. It depends more on crass humor and obvious ideas rather than the shared insights of people from different backgrounds.
Meagan Good on Harlem, Shazam, and Helen Mirren
Both You People, which Barris co-wrote and directed, and the White Men Can't Jump remake, which Barris co-wrote and produced, are very much about race and relationships; by comparison, the original WMCJ (written and directed by Ron Shelton) knew little about relationships and is only tangentially about race—despite its title. Nevertheless, the remake of WMCJ, also set in the Black communities of greater Los Angeles, fancies itself as having more on its mind than the original flick, but the ball rarely makes it through the hoop.
The new film, directed by Calmatic, provides a prologue to frame the motivations of our principal characters (the original did not), then works its way around to Kamal (Sinqua Walls from Friday Night Lights in the Wesley Snipes role) and Jeremy (Jack Harlow, a rapper turned not very good actor, in the Woody Harrelson role) street ballers who hustle players for money based on the notion that Jeremy can't possibly play well because he's white. While this notion may have been comedically plausible in 1992—after all, a white man did not win an NBA slam dunk contest until 1996—in 2023, it reads a bit racist, and I'm saying this as a critic who is also Black. And none of the conceits the filmmakers insinuate into the story—including mentioning that the idea conveyed in the movie's title is, in fact, racist—makes it any less so. So they press on and make a film that explores ideas around anger management, grief, fear of failure, and race based on the premise that white men can't jump.
In the prologue, we meet Kamal as a young high school baller on the cusp of making it big. His father (played by the late Lance Reddick) is one of those basketball dads, living out his failed dreams through his son. A decade later, Kamal is a delivery driver with a wife and a kid playing street ball for extra money. As in the original, he gets hustled by Jeremy because he assumes that the "white boy" can't possibly outshoot him—in his own gym, no less. Jeremy is a former college star who blew out his knee but still has dreams of playing professionally. Soon, there will be big-money tournaments, our heroes overcoming their issues ... blah, blah, blah.

What the remake misses most from the original is the presence of Rosie Perez, whose Gloria Clemente gave the original movie some heart; she was funny, quirky, and sincere in her affections and life goals. Teyana Taylor and Laura Harrier are the female leads in the remake. Neither have Perez's sense of character—or great dialogue to speak—nor do they have storylines that give them agency beyond supporting their men. Ironically, in some ways, the 30-year-old original is more woke than the remake. But make no mistake; Shelton's original version was pretty sexist too. The remake is trying not to be sexist; it's just failing at the attempt.
Notably, there are rappers, comedians, influencers, and professional basketball players in this tepid remake, but no movie stars. Snipes, Harrelson, and Perez were not only professional actors but A-listers in 1992, which, it seems, is no longer required for many movies—being the right hip-hop artist or influencer is enough. Even if none of them, at least in this film, are very good actors.
The original White Men Can't Jump was a hit back in the day and has become a cultural touchstone over 30-plus years in the Black community. The phrase pops up in Black culture, from hip-hop to other cinema, but, if we are being frank, the notion was racist then and is now. The late NFL Today commentator and noted racist Jimmy the Greek couldn't have said it, but society has let it stand for many reasons. I'm not sure if that is an advance in the culture or a retreat, but as Gloria said in the original White Men Can't Jump: "Winning or losing is all one organic mechanism, from which one extracts what one needs."
I'm not sure if a remake of White Men Can't Jump from a Black perspective is a win or a loss, but I'm pretty sure you can extract whatever you need from it and call it a game.
White Men Can't Jump premieres May 19 on Hulu.