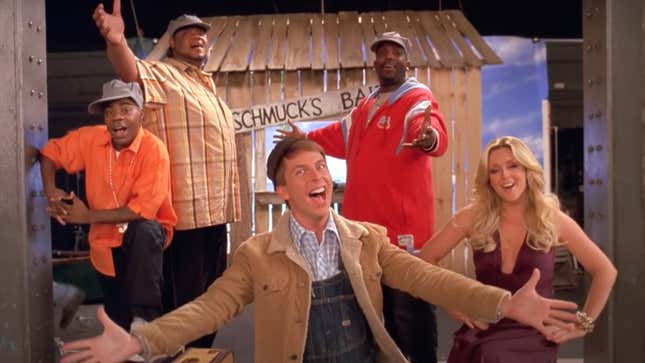 A decade after 30 Rock finished its run, the series still feels like one of TV's most talked about shows. Part of this is because of the rise of streaming. While 30 Rock was never a ratings winner in its day, people have consistently discovered it years later on Netflix and Peacock. But it's also the way that the show's astute satirization has aged so well. This past winter, for example, saw the premiere of MILF Manor on TLC, a show with more than a passing resemblance to the 30 Rock cinematic universes's MILF Island.

Zosia Mamet talks "Girls", "The Flight Attendant", and her new book
The "MILF Island" episode comes in the series' second season, a high point in a show full of them. It's a season that also sees Jack Donaghy's relationship with Congresswoman Celeste "CiCi" Cunningham (Edie Falco), Carrie Fisher's guest appearance, "Werewolf Bar Mitzvah," Sandwich Day, and the whole cast coming together for a rousing performance of Gladys Knight & the Pips' "Midnight Train To Georgia." The latter moment comes at the end of "Episode 210," an installment that serves both as a midseason premiere and a makeshift finale. The script was the final one written before the 2007-08 writers' strike, and when the episode was filmed in November, no one knew when they would be able to return to production.
The strike wasn't a surprise; the series included a joke four episodes prior about a news crawl on MSNBC being affected by it. "Episode 210" was filmed a month before the strike officially kicked off, so it stands to reason that there was enough time to plan a gag to go out on. The whole episode builds to this gag. When a cappuccino machine finds a home on Kenneth's desk, he becomes addicted to caffeine, eventually dubbing New York the "21st-century city of Sodom," and now that he's been "sodomized," he chooses to pack it up and board the train back to his home in Stone Mountain, Georgia. Cue Gladys Knight, who herself had been mentioned previously in the episode.
The track works on the obvious textual level—Kenneth is literally leaving on the midnight train to Georgia—but it also works handsomely for the mood of the scene and the show. In his Number Ones column for Stereogum, former A.V. Club contributor Tom Breihan (himself citing critic Chuck Eddy) describes how the silliness of the Pips, with their woo-woo'ing and interjections, undercut the tragedy of Knight's melody, making the whole affair more manageable. In the context of the show and the strike, it works the same way. Even if the work stoppage is righteous, it's still cutting short a show at its prime, leaving many talented people to twiddle their thumbs while they wait for a studio to cut them a fair contract.
However, the 30 Rock version of "Midnight Train" makes one crucial change from Knight's version. Knight's rendition ends with the narrator following her dud of a dude to Georgia; the 30 Rock version ends with Kenneth missing the train. ("It was an 11:45, and I was misinformed about the time.") Yes, it's the third beat of a joke, and, no, they obviously weren't about to write Kenneth off the show. But it was also a clear message that although the show was saying goodbye, it wouldn't be saying goodbye forever. It's sweet in its own silly way.
For a show about TV that constantly nodded to current events like elections and the Olympics, it's notable that the song and the brief news crawl were really the only references to the strike. In a 2008 interview with Cinemablend, Tina Fey rejected the idea of including a strike storyline with a reasoning that is bizarrely common in COVID times. "We decided that the strike did not happen in our world because we felt like, for people viewing at home, the real strike was a big enough pain and that they didn't really want … to hear any more about [it]," Fey said.
Fey did tease that they had written a strike storyline that was ultimately shelved. "We had had sort of a writers' strike story that we may just save for later down the road because it didn't have anything to do with the actual strike," she said. So that plot never happened, but Liz Lemon did have to grapple with writing being a "dying profession" in season five's "Plan B": When Tracy Jordan is missing and TGS teeters on the edge of cancellation, Liz worries that being a writer will go the way of being a travel agent. Even if Liz fears game shows and reality shows while today that fear is A.I., the plotline still feels prescient.
As with The Simpsons before it, 30 Rock has gotten a bit of a reputation for predicting how silly and bizarre things have gotten. But Tina Fey and Matt Groening are not oracles, and the world was stupid and ridiculous 15, 20, 30 years ago. They were underpaying writers in 2007, and in 1988, and 1981, and 1960. Dumb TV shows succeeded. Presidents and representatives behaved foolishly. People liked soul music. Things may feel more ridiculous than they were then, but it's important to remember that they have been for a long time, that these struggles are not unique to a new time or generation. The song is the same, even if the singer's not.