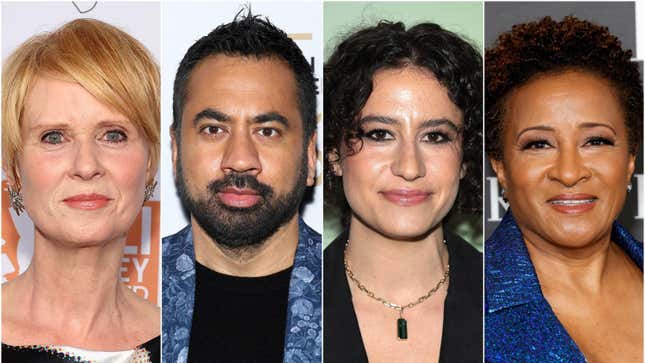 Three weeks into the writers' strike, the Writers Guild of America took over New York City's legendary Rockefeller Plaza to make one thing crystal and rightfully clear to the Alliance of Motion Picture and Television Producers (AMPTP): They're not backing down.
The WGA East organized a vibrant rally on May 23 below the iconic 30 Rock building, home to Saturday Night Live, The Tonight Show With Jimmy Fallon, Late Night With Seth Meyers, and the NBC and Comcast offices. It's also the structure that inspired NBC's long-running, beloved sitcom,
30 Rock (a show that, a decade ago, was impacted by the previous strike). The adrenaline-filled energy from solidarity just can't be beaten, and thankfully, the WGA wasn't alone. Members of the SAG-AFTRA, IATSE, and other labor unions showed up in numbers to support the writers demanding fair compensation for their work. What else did corporations promoting AI over real writing talent expect?

The 30 Rock rally witnessed impressive speakers, from And Just Like That...'s Cynthia Nixon to Broad City's Ilana Glazer, from playwright Tony Kushner to Good Omens' Neil Gaiman. The A.V. Club did some boots-on-the-ground reporting to bring you rousing, insightful quotes from everyone who took the stage supporting the WGA, including exclusive comments from Girls5eva and SNL's Paula Pell and rally emcee Josh Gondelman, former writer at Last Week Tonight With John Oliver.
[The following speeches have been condensed.]