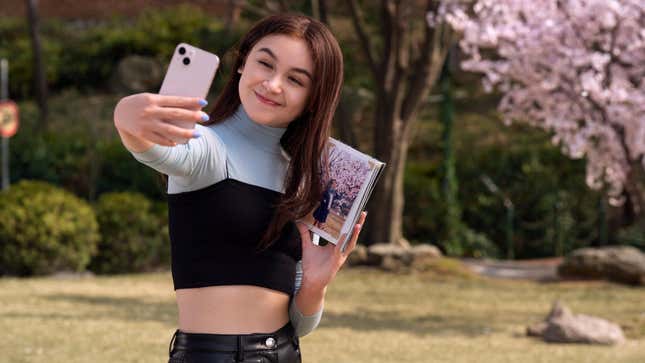 Any spin-off has inherent risk. Sure, you're leveraging a familiar world with a built-in audience, but side characters are often to the side for a reason. In the three To All The Boys I've Loved Before movies, Anna Cathcart stole scenes as Lara Jean's precocious little sister, Kitty. Bubbly, wise beyond her years, and occasionally biting, a pinch of Kitty could spice up a scene. But what happens when there's more than a pinch? Can Kitty sustain an entire show?
Sam Raimi on finding his place in the MCU
XO, Kitty, which premieres May 18 on Netflix, is banking on it, because after a quick opening scene with her dad (John Corbett) and stepmom (Sarayu Blue), Kitty's family essentially disappears from the show. No cameos or quick video chats from Lara Jean or Peter Kavinsky here! After four years of pen palling with Dae (Minyeong Choi), a boy she met on the family's trip to South Korea, 16-year-old Kitty is transferring to join him at the prestigious Korean Independent School of Seoul (KISS). It also happens to be where her deceased mother spent her junior year of high school, and Kitty is eager to feel closer to the mom she never really knew.
It's a strong premise, taking know-it-all Kitty across the world to suddenly be a fish out of water all while trying to sort out her mother's past. But Kitty's strictest teacher, Professor Lee (Michael K Lee), shares some criticism that might as well be for the whole show: "Aggressive perkiness may have charmed your American teachers, but here you need to put in more work."

Kitty is ... a lot. Creator and showrunner Jenny Han has a strong success rate for creating charming heroines in Lara Jean (To All The Boys) and Belly (The Summer I Turned Pretty), but those were both adaptations from her novels. XO, Kitty is her first story created expressly for TV, and things feel a little clunky at first. The characters aren't as lived in, the dialogue is frustratingly expositional, and our protagonist grates on everyone around her, including the audience.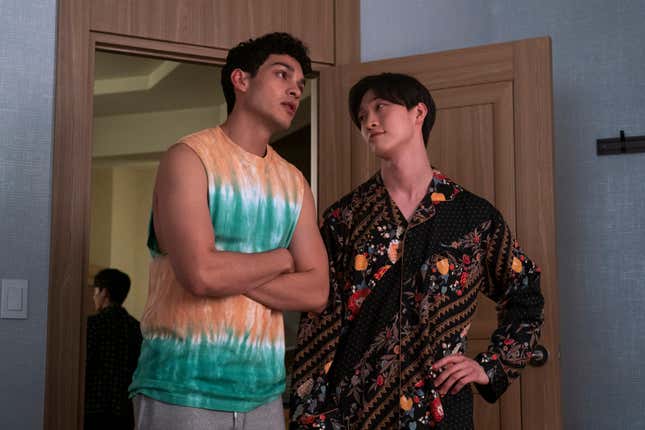 It takes Han time to build the core group around Kitty and line up all the love triangles—squares?—that will define their dynamic. Dae's two best friends, Q (Anthony Keyvan) and Min Ho (Sang Heon Lee), take opposing views of Kitty, at least at first. After Kitty uses her matchmaker talents (we regret to share that "matchmaker" seems to be Kitty's defining trait) to help Q get closer to a boy he has his eye on, they become quick BFFs. The rich and arrogant (but in like a hot, misunderstood way) Min Ho, on the other hand, describes himself as "famously anti-Kitty," and the two clash from the start. Finally, there's Yuri (Gia Kim), popular and beautiful, the daughter of a hotelier and the school principal (Yunjin Kim), who has a secret she'll go far to protect.
Filmed in Seoul, the show takes great care to integrate Korean culture, with its food, customs, and heritage all on gorgeous, loving display. When it makes sense—which is often—the characters speak Korean, effortlessly weaving in and out of English when Kitty is around. In her previous work, Han has proven herself a queen of the needle drop, and she blends western and K-pop hits in a way that feels seamless.

But when it comes to plot, so much hinges on misunderstandings and coincidences. Not one but two crushes are instigated by truly cringey sex dreams. The unfolding mystery of the relationship between Kitty and Yuri's mothers, who were both students at KISS in the '90s, sometimes feels like a plot from a different show. And yet, by the end of episode five, it starts to come together and you can feel the Han magic kicking in. There are a lot of balls in the air, and when they all land in the finale, you realize XO, Kitty is primed for a better, richer, more interesting season two. With all the wheel spinning the show does in its first half, we just wish it hadn't taken so long to get there.
---
XO, Kitty premieres May 18 on Netflix