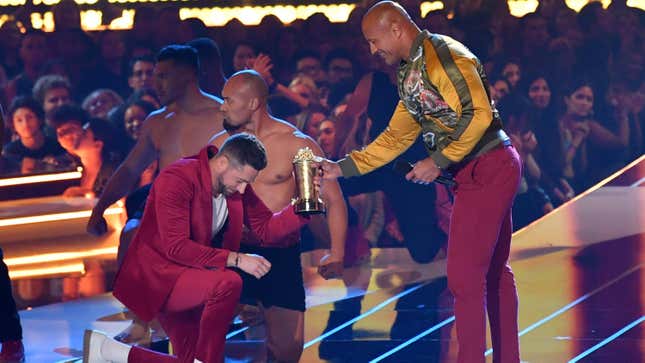 The lightning bolt boys are finally fighting.

In yet another sign that this era of the DC cinematic entertainment should've ended in 2013, Zachary Levi has seemingly confirmed that Dwayne Johnson nixed Levi's Black Adam cameo and denied access to Black Adam characters for the latest Shazam. Black Adam can't be seen fighting a jokey goofball like his canonical nemesis Shazam because, as we've noted, it's the Rock's dream to punch Superman in the face.

Dwayne Johnson on why "Black Adam" was the movie he had to make
Perhaps the most important (only important?) post-credit sequence in superhero movie history, Black Adam ends with, what else, a phone call from Amanda Waller (Viola Davis) before Henry Cavill's Superman flies in from the void of space to tell Johnson's Black Adam, "We should talk."

However, this was not the original plan. Honestly, it doesn't seem like much of a plan, outside of a hail Mary to push the WBD brass into giving the Rock a bigger slice of the DC pie. And as we all know, the Rock loves pie. Per The Wrap, initially, Black Adam was to feature a post-credits scene where The Justice Society recruits Shazam. That certainly would've made more sense, considering Shazam wears the same shirt as Black Adam, is canonically linked to the character, and was opening a $100 million superhero movie only a few months later. But instead, Black Adam tried to force Hollywood's hand into letting Johnson punch Superman.

Nevertheless, as he continues his Shazam! Fury Of The Gods apology tour, Levi seemingly confirmed Johnson's duplicity in this. Responding to an Instagram story that details Johnson's vetoing Levi's cameo, the Shazam star commented, "The truth will set you free."
"The Wrap confirms that in Shazam! Fury Of The Gods, the Justice Society from Black Adam were recruiting Shazam in the post credits," the post reads. "The Rock denied access and [Shazam! director] David F. Sandberg had to make a last minute decision to add Emilia and John. Dwayne 'The Rock' Johnson attempted to restructure the DCEU, centering him and Henry Cavill's Superman. The Rock didn't allow Zachary Levi to cameo in a post-credit for Black Adam.
To use The Wrap's verbiage, Johnson further "kneecapped" Shazam! Fury Of The Gods by refusing access to Black Adam characters for the movie. In a recent interview with The Hollywood Reporter, director David F. Sandberg, using his most diplomatic voice possible, explained how the Fury Of The Gods post-credits scene came together.

So there were supposed to be characters from [Black Adam's] Justice Society, but that fell apart three days before we were going to roll cameras. I was really upset because we had built that abandoned gas station set, and we could only shoot that scene in that little piece of forest. I was like, "This is so boring. We need something here." So the art department built that whole gas station and brought in some old cars and things. They made it look really nice with very few resources, and so I was like, "We have this set and we have the time, so we have to shoot something here."

So, Peter Safran, who produced this movie and Peacemaker, made some calls, and thankfully, Jen Holland and Steve Agee were able to come by on very short notice. I mean, the scene makes a little less sense with them. It's like, "Why are they recruiting for Justice Society?" but you can kind of see it as they're working for Amanda Waller [Viola Davis].

The more time passes, the more that Black Adam post-credit scene reveals itself as the most consequential since Samuel L. Jackson uttered the words "Avengers initiative." It's certainly more interesting than hearing fellow theatergoers grumble, "Who's that," "What are they from again," and "I have to watch a TV show, too?"