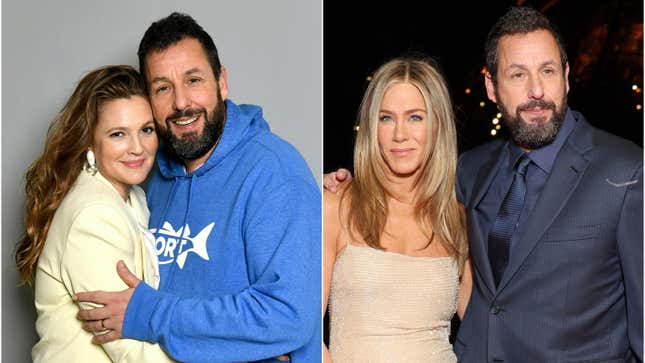 Adam Sandler wants to make rom-com history… again. The actor is currently promoting his new Netflix film Murder Mystery 2 with frequent on-screen love interest Jennifer Aniston. Aniston, meanwhile, recently teamed up with his other rom-com partner, Drew Barrymore, to honor Sandler as he received the Mark Twain Prize for American Humor. It seems that having all three together may have given the Sandman some ideas.
Why Christian Bale just can't quit David O. Rusell
While the two rom-com queens took the stage on Sunday, they exchanged some banter to that effect (per People). "We should do that movie that you and I have been talking about," Aniston suggested, with Barrymore replying: "You mean the one where we don't need that goofy boyfriend?"
"It was just an idea we thought we'd be funny cause there was a Twitter thing a couple years ago and they're always sort of comparing us, as to who's the better movie wife, movie love, so we just thought we'd do a little bit on that," Aniston explained in an appearance alongside Sandler on Good Morning America on Wednesday.
Sandler confirmed that "everybody loved it," later adding that "Jennifer's gonna write" a new movie for himself and Barrymore. In fact, the pair say they've "been pitching the idea" for a project that features them as a trio.
"We want to do all three of us together and just put an end to this competition," Aniston proposed, though Sandler corrected, "There's no competition, just two great ladies." However, he added, "That would be amazing doing a movie all together."
Lots of the old rom-com stars have been getting back in the game, so putting these three together feels like a no-brainer. Time to start brainstorming ideas for the perfect Barrymore/Sandler/Aniston screenplay—drop your best pitch in the comments!