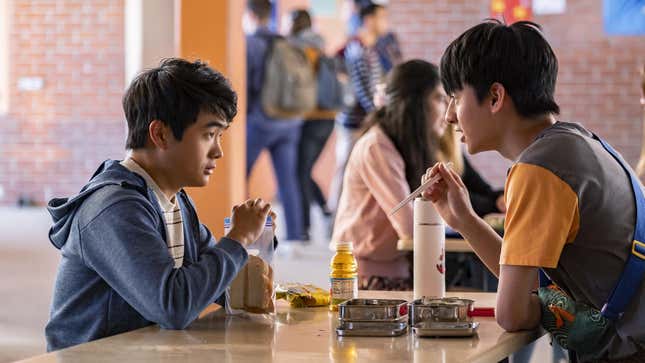 Gene Luen Yang's 2006 graphic novel American Born Chinese is an unabashed mix of an identity crisis and larger-than-life mythological concepts, so it's no wonder the book spoke to audiences (especially Asians, who are underrepresented in the media). Now, 17 years after its publication, Yang is executive producing his book's official adaptation. Disney+'s American Born Chinese, which premieres May 24, tightens the novel's storylines in ways more suited to a visual medium. But thankfully, the undercurrent of his emotional beats remains the same, making this a vivid, heartfelt project.
The show features an impressive cast, with standouts like Michelle Yeoh and Ke Huy Quan, who won Oscars earlier this year for their impeccable performances in Everything Everywhere All At Once. They're both enticing draws as recurring characters here, and Stephanie Hsu, Ronny Chieng, Jimmy O. Yang, Poppy Liu, and James Hong also make appearances. However, this star-studded ensemble is only there to pave the way for the striking lead duo of Ben Wang and Jim Liu. Their young characters' central bond roots ABC in coming-of-age tales, ensuring that all of the spiritual lore and big concepts don't become overwhelming.
American Born Chinese is entertaining as a sci-fi endeavor, pulling from the mythos of Chinese Gods like the Monkey King, the Jade Emperor, and other heavenly creatures. The show understands the deities and uses them as metaphors for community, acceptance, and self-discovery through the lens of these two breakout teens. This authenticity is achieved because the writers' room features multiple Asian voices, including series creator Kelvin Yu, 30 Rock's Vali Chandrasekaran, and Legion's Charles Yu. Plus, Lucy Liu and Destin Daniel Cretton are two of the show's directors. (Cretton defintely brings his Shang-Chi And The Legend Of The Ten Rings expertise to the fast-paced, well-shot action scenes.) It all adds up to a worthy adaptation that breezes by with eight roughly half-hour episodes.
The show finds its center with Jin Wang (Wang), a Chinese American high schooler struggling in every department: His crush seems unattainable; his parents are facing marital problems; his soccer friends may or may not be bullies; and he's even turned into a meme. Jin starts as a withdrawn kid, but that changes when he is forced to befriend a new student, Wei-Chen (Liu), simply because they're both Asian. While Jin quietly strives to fit in among his white peers, Wei-Chen confidently stands out. He helps bring Jin out of his shell, and they connect over their mutual love for manga and stories about the Monkey King. Jin doesn't know yet that his new pal is the son of the King, a.k.a. Sun Wukong (played by Chinese superstar Daniel Wu).
So. Wei-Chen travels to Earth to find a crucial item that might help save Heaven against an uprising led by Niu Mowang, aka the Bull Demon (Leonard Wu). He enlists Jin's help and, in turn, assists him with human issues like how to win over his teammates by participating in ridiculous challenges. They go through ups and downs, but ABC succeeds in developing a genuine, understandable friendship between the two. Every time the show returns to them, it hits the sweet spot between YA fantasy and grounded drama.
 ABC does falter, though, by never fully depicting the state of this uprising that Wei-Chen and the Monkey King keep referring to. The rebellion is described loosely, and the show doesn't really explain the motives of the Bull Demon. (Instead, we get a midpoint episode set in the clouds, featuring an assortment of gods, that feels jammed into the narrative.) It leads to low stakes even though it's a fight for preserving literal Heaven and Earth. American Born Chinese also, unfortunately, succumbs to superhero-level fare in its climax (think: zapping, flashing lights in the sky as characters battle it out and a portal threatens to eat everyone whole).

The emotional stakes actually feel higher with Jin's parents. Christine (Yeo Yann Yann) and Simon (Chin Han) deal with years of simmering tension, mainly because they solemnly adapted to a new country and focused on raising their son. Now, she wants more out of her existence, and he can't even seem to ask for a promotion at work. Their plot is grounded in the reality of immigrant life and being pulled between two worlds. A similar thread is explored in Quan's seemingly separate storyline. He plays a former '90s actor whose "iconic" (read: hackneyed) sitcom character Freddy Wong haunts him to this day. His catchphrase, "What could go Wong?" is more of a punchline. Through this arc, ABC examines how Hollywood depicted Asians on screen in a way that mirrors Quan's real-life journey. And in his way, Freddy becomes a source of inspiration for Jin in a crucial moment.
Thanks to these sincere moments, American Born Chinese rises above its faults to become a wholesome TV show that goes beyond stereotypes. It doesn't necessarily comment on them head-on but it does find a way to address them subtly as Jin strives to find his place in his world. The end result is a vibrant, inclusive, and enlightening season of TV.
---
American Born Chinese premieres May 24 on Disney+