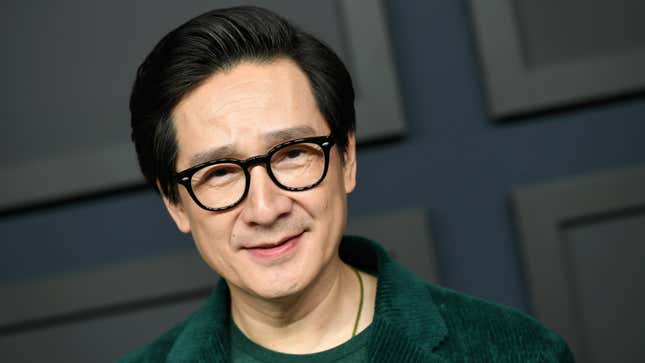 Completing an almost a clean sweep of every major awards ceremony this season, Ke Huy Quan has won the Academy Award for Best Supporting Actor at the 2023 Oscars for his role as Waymond Wang in Everything Everywhere All At Once. It is the first win and first Oscar nomination for Quan, and it marks only the second time an Asian actor has been honored in that category.
In his deeply emotional speech, Quan spoke of his youth coming to America as a refugee, painting his trip to "Hollywood's biggest stage" as an expression of the American dream. Thanking friends, cast-mate, family, and especially his wife, Quan formally thanked Hollywood for "welcoming me back" in a tear-filled address. (He also thanked his old Goonies pal Jeff "Chunk" Cohen, who helped negotiate the deal that brought Quan to EEAAO)
Quan takes home the trophy over fellow nominees Brendan Gleeson (The Banshees Of Inisherin), Judd Hirsch (The Fabelmans), Brian Tyree Henry (Causeway), and Barry Keoghan (Banshees). Quan was the safest bet on this year's Oscars ballot, though, as the winner at every previous major award show, save the BAFTAs. In addition to the Academy Award, Everything Everywhere All At Once earned Quan a Golden Globe, a Critics Choice Award, and an Independent Spirit Award among numerous other accolades, including the SAG Award, for which he was the first-ever Asian male film star to take home the trophy.
At the Oscars, Quan follows only Haing S. Ngor (for The Killing Fields), who won in 1985. Per Variety, only five actors of Asian descent have previously won Academy Awards in any of the major performance categories: Ben Kingsley (Gandhi) and F. Murray Abraham (Amadeus) for Best Actor, Miyoshi Umeki (Sayonara) and Yuh-Jung Youn (Minari) for supporting actress, and Ngor.
Quan joins his Everything Everywhere All At Once co-stars Michelle Yeoh and Stephanie Hsu, as well as The Whale's Hong Chau, in making history for Asian nominees at the 2023 Academy Awards. EEAAO led the year's nominations with 11 nods, with one on the books so far.