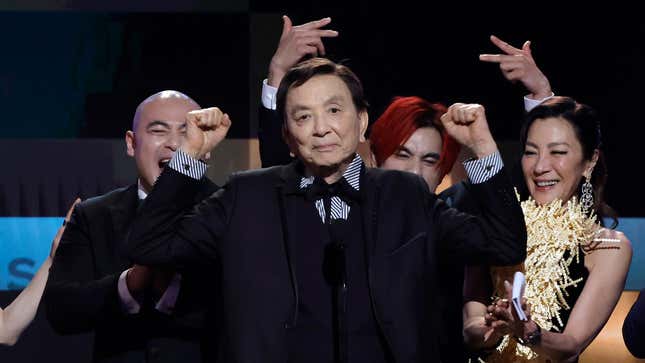 With one of the best speeches of award season thus far, Hollywood veteran James Hong got to take the stage in a room full of his peers and finally talk his shit.
Gold Standard: Oscars edition - Best Picture
Everything Everywhere All At Once had a stellar evening at the 2023 SAG Awards, with Michelle Yeoh, Ke Huy Quan, and Jamie Lee Curtis all taking home statues for their respective roles in the sci-fi comedy, before earning SAG's top prize for Cast in a Motion Picture.
Prior to handing the mic over to Hong, Yeoh introduced him. "There's been one who has been supporting ensembles for longer than any of us have been alive," she reflected. "He's been acting since there were only 49 states, and he just turned 94. And it's been 69 years in the making to get him to this stage."
Hong kicked off his speech in Cantonese, because "we might be broadcast in Hong Kong," before switching to English. With his fellow predominantly Asian cast members next to him on stage, Hong reflected on the time when Hollywood thought Asian actors could not play Asian characters and, flexing on everyone in the audience, recalled that his first film credit was in a Clark Gable movie. Oh, and he received his first SAG card a whopping 70 years ago, during a time when being Asian in Hollywood looked entirely different.
G/O Media may get a commission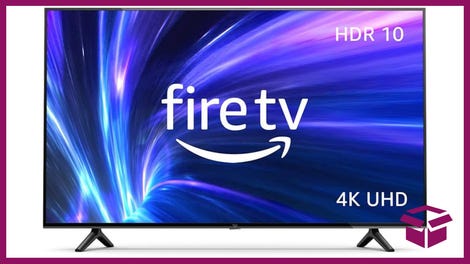 42% Off
Amazon Fire TV 50" 4K Smart TV
"Back in those days, I have to tell you this, the leading roles were played by these guys with their eyes taped up," Hong says during his speech. "And the producer said that Asians were not good enough, and they are not box office. But, look at us now, huh?"

Since his debut in 1955's Soldier Of Fortune, Hong has amassed more acting credits than nearly anyone else in Hollywood history, with over 600 titles to his name. He became known for his work on Seinfeld, Chinatown, Blade Runner, Mulan, Big Trouble In Little China, Kung Fu Panda, and so much more, with recent roles in Turning Red and Wendell & Wild. However, his role as Gong Gong in EEAAO is the first to bring him to a major award stage in the states. He certainly seized his long-awaited moment, giving an emotionally deft speech fit with biting humor and plenty of crowd work.
He took moments to take a jab at Daniels' wild script for EEAAO, and that Daniel Scheinert is in fact, white, before ending his speech by pulling a line from Yeoh's own award season script: "Shut up. I can beat you up."
At 94 years old, Hong's been on more film and television sets than nearly anyone, and it's a shame we'll likely only ever hear about a sliver of his illustrious experience. However, as Hong says in his speech, we'll hopefully see him again on the SAG stage at 100, and EEAAO will lead to even more opportunities to share his life story.