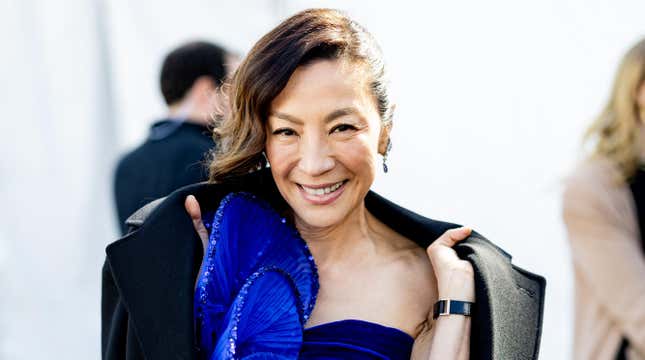 With the Academy Awards coming up this Sunday, it really seems like Everything Everywhere All At Once's show to lose. The Daniels' film went on a huge run at the guild awards earlier this year, winning big WGA, SAG, DGA, and PGA awards, effectively guaranteeing it a Best Picture win at the Oscars, to say nothing of the acting categories. But don't just take it from the show biz community that Everything Everywhere deserves to win some awards, take it from one of the people who stands a very good chance of taking one of those awards home: Michelle Yeoh.
In a since-deleted post on Instagram (we'll get to that in a minute), Yeoh shared an article from Radhika Seth in Vogue about how it's been over 20 years since Halle Berry became the first woman of color to win Best Actress at the Oscars—and nobody, until maybe this year, has done it since. Yeoh quoted her own SAG Awards speech in the post, saying, "This is not just for me, this is for every little girl that looks like me," and "We want to be seen, we want to be heard."
Now, actors campaigning for Oscars is nothing new (especially this year), but what makes Yeoh's post noteworthy is that she's not necessarily saying "vote for me," which might rub people the wrong way (again: especially this year). She's highlighting someone else's argument that it would be Good and Important if she won in the face of a century of systematic racism from the Academy, and it deserves to be noted that it's truly outrageous that Yeoh would be the first Asian woman ever to win Best Actress and only the second person of color to ever take home that trophy. (The Vogue piece also goes into the interesting history of women of color going for Supporting Actress rather than the lead, even when white women who are pretty clearly in supporting roles go for Best Actress.)
Still, a lot of readers looked past that whole part of the post and focused on the fact that the Vogue article (and therefore Yeoh's screenshots of the article) included a mention of the counterargument against Yeoh winning—namely that Cate Blanchett's performance in TÁR is incredible and that she also has a lot of awards momentum. Ultimately, though, the argument from Vogue is that Yeoh winning would be "both supremely well deserved and infinitely more meaningful" than a win for Blanchett, and it seems like Yeoh agrees since she included it.

But the post has since been deleted, and Yeoh is probably the only one who knows why. It could be because people were mad that the story she referenced talked about Blanchett, or it could be that simply acknowledging a fellow Best Actress nominee like that may have been in violation of the Oscars' rules about campaigning. Either way it's probably irrelevant now: The post was deleted, so who cares, but also it would be an ungodly terrible look for the Oscars to reprimand Yeoh now, so they probably won't.