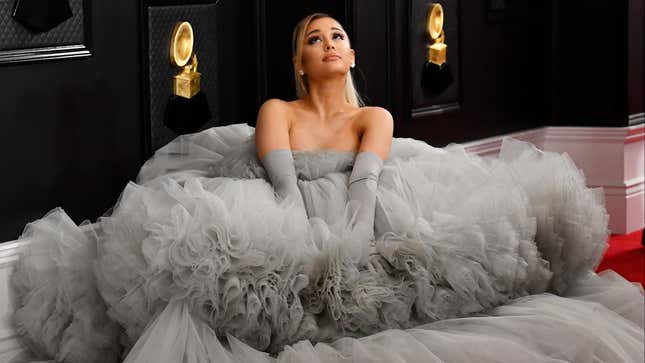 She's here, and she's perfect. On Tuesday, Entertainment Tonight did the honors of sharing the first official clip of Ariana Grande performing as Glinda in John M. Chu's two-part big-screen Wicked adaptation, which is currently filming in England. In the clip, Grande holds court from the elaborate Munchkin-land set, dressed to the Oz nines in a towering tiara fit for a ruler and Glinda's trademark pink gown.
In the day since it dropped, the roughly two-and-a-half minute clip has sparked some disagreement about Grande's lip-synced vocals to musical opener "No One Mourns The Wicked." Barring recent examples like Les Miserables and A Star Is Born, lip-synching is pretty standard practice for a movie musical. However, the video's YouTube comments reflect some debate about whether Grande is lip-synching to her own track or a recording of Broadway's original Glinda, Kristen Chenoweth. The song's higher refrains certainly sound like Chenoweth's soaring register, but the first installment of the two-part film is also still well over a year away. If Grande is filming using Chenoweth's vocal, that's no indication the pop star—who has a legendary high soprano herself—won't sing her parts.
"Andor" star Adria Arjona on Bix Caleen's Journey
Although the new clip marks the first time the general public has seen Grande in full Glinda mode, gracefully extending her hands and wielding a glittery scepter in true good witch fashion, this isn't the first glimpse from the set that's hit the internet. On April 16, Chu shared two first-look character shots from the film via Twitter, one of Elphaba (Cynthia Erivo) and one of Grande's Glinda.
For as much excitement as they fostered, the shots also drew some immediate clowning for their on-trend dimly-lit look. But in response to one fan, Chu offered a pretty fair explanation (and one that speaks to the tizzy over Grande's vocals too): "This is just the first tease. Plenty of time to show more… stay tuned." Before deciding whether the adaptation should be written off for good, let us all practice some good faith.