"Midnight On The Firing Line" (season 1, episode 1; originally aired 1/26/94)
Why should you watch Babylon 5?
There's a partial answer in the first season première, "Midnight On The Firing Line." The Centauri ambassador to the station, Londo Mollari, relates a prophetic dream where he dies alongside Ambassador G'Kar of the Narn, their hands around each others' throats. These are two major characters. They're both in the main credits. And they're treated as deathly enemies, not just now, in this introductory episode, but in the future. That's impressive for any TV show, let alone a pre-2000 series.
The prophetic nature of the dream also serves as a promise. It says "This will pay off. Keep watching." Even though "Midnight On The Firing Line" isn't the greatest episode—it's fine, with some good and a few bad moments—that promise, that conflict, suggests that Babylon 5 is far more ambitious than it seems.
It's also easy to note, in retrospect, how relevant the Londo/G'Kar prophecy is. I'll try not to go into even thematic spoilers too much over the course of my reviews, but in this case, trying to demonstrate the appeal of the show, it's important to let first-timers know that yes, this ends up working. The prophecy pays off, but not always how you might envision it. It's roughly equivalent to the Opera House vision from Battlestar Galactica, but where that prophecy petered out, Londo's vision of death just gets better and more integrated into Babylon 5's whole. The Londo/G'Kar relationship has complexity and dynamism, and is the best part of the show for most of its run. The rough parts of "Midnight" will be smoothed away, while the good parts will be accented. Eventually.
G/O Media may get a commission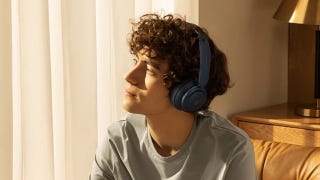 30% off
Soundcore Headphones and Earbuds
That's why "Midnight On The Firing Line" is my test for new Babylon 5 viewers. The levels of potential and competence are subjective enough that I'd expect a variety of different reactions. Therefore, my recommendations if you're a first-time viewer, based on those reactions:
This was good! I'm interested in learning more right away: Watch it all! It's not going to be as good immediately, but it'll get even better in just a few episodes.
I can see the potential, but the entertainment doesn't match it yet: Check out the next episode, "Soul Hunter." If you enjoy it without many reservations, then just go ahead and watch most of the episodes.
If you're less impressed after "Soul Hunter," then stick with the episodes that get A/B grades this season—the next will be episode five, "Parliament Of Dreams."
This isn't working for me, though there may be something to it: There's a two-part episode later in season one, called "A Voice In The Wilderness." Although not totally perfect, I do think it's one of the earliest examples of Babylon 5 working well across the board.
Follow that up with "Babylon Squared," an episode which is among the show's best—top 10 or 15, I'd say—and also one which demonstrates Babylon 5 at its most ambitious.
I can't stand Commander Sinclair: Wait for the second season première. You may miss a few things, but it'll still make sense overall. Disliking Sinclair so much isn't a complaint I entirely understand, but enough people make it that I guess I can't call all of them crazy.
"Midnight On The Firing Line" serves as our introduction to the Narn-Centauri conflict, and it's effective at using the history to build drama. The Centauri was a galactic power, and a rather nasty one at that, destroying and essentially enslaving the Narn homeworld. Now the Centauri are in decline, the Narn are on the rise, and the Narn are pissed off, at everyone, but especially the Centauri—so they attack a defenseless Centauri colony.
These races are embodied by their ambassadors on the station, Londo Mollari for the Centauri and G'Kar for the Narn (as well as Delenn of the Minbari, but she's relatively quiet in this episode). This is a good shortcut for viewers, since it allows the theoretically distant politics and history to manifest as specific drama on the station. As long as the ambassadors are also portrayed as individuals (and I think they are, or will be very shortly) then the shortcut isn't lazy.
Beyond the introduction to the Narn-Centauri relationship, "Midnight On The Firing Line" is more specifically our introduction to Londo Mollari. This is one of the things that makes it the best of the early episodes, as Peter Jurasik chews scenery wildly from the start of his depiction of Londo. This is good for two reasons: first, it keeps the show entertaining. Second, when depicting an alien character in a space opera like Babylon 5, a theatrical, over-the-top approach is effective. I mean, we'd be staring at the damn hairpiece saying "that's a bit much, isn't it?" if it weren't for the acting saying "this is a bit much, and it's fun!"
Even with that, I think Jurasik is doing it well. His new assistant, Vir, played by Stephen Furst, comes across as excessively bumbling, a sitcom character trapped in a dramatic show, and much less successful than Londo. Like most of the show's actors and characters, Vir will get better, but right now, he's pretty painful. Equally awkward: Security Chief Garibaldi's repeated attempts to have people join him for his "second favorite thing in the world"—it sounds like sex, but it's actually cartoons! One of Babylon 5's biggest early weaknesses is its forced humor. It gets better eventually, though rarely great.
One of the few consistent sources of humor is the new Lt. Commander, Susan Ivanova. Played brusquely by a game Claudia Christian, Ivanova manages to make lines that seem clumsy on the page work. For example: "Excuse me, but I'm in the middle of 15 things, all of them annoying." She also demonstrates some vulnerability, describing her mother's encounters with the governing body of human telepaths, the PsiCorps, to the new telepath, Talia Winters.
Ivanova's monologue about her mother also illustrates one of Babylon 5'sbiggest departures from Star Trek, its closest television analogue: humans are deeply flawed. While Trek may have been, in 1994, largely aspirational in its depiction of a near-utopian Federation, B5 tends to have a more skeptical approach to humankind—people are just as good and just as bad in its future as they have been in the past. Its skeptical approach to powerful government aligns it much more with its contemporary, The X-Files—though conspiracy theories aren't anywhere near as dominant in B5 as they were on Fox's genre hit.
"Midnight On The Firing Line" also demonstrates a few different examples of how Babylon 5 is very much of its time. How its concerns reflect mid-1990s America is one of the themes I'd like to focus on in these reviews moving forward. Two stand out in this episode: First, the use of media is decidedly 1990s. Characters are shown reading newspapers and watching the news, engaging with the world through the traditional gatekeepers.
Second, the plot hinges on the "good guys" attempting to use a United Nations-like structure to sanction the Narn Regime's aggressive actions. Political actions like these were at the core of many foreign policy debates in the '90s, following the fall of the Soviet Union. The antagonistic senator who talks to Sinclair even says "The Earth Alliance can't go around playing the galaxy's policeman," deliberately evoking the then-current debate. The idea of progress through deliberative bodies was common in the '90s and represented in its science fiction.. The later critiques of such conceits, from both the left and the right, aren't present here—although I do think the show attempts to handle these ideas with more complexity in the future, if not always successfully.
There are some pretty notable competence issues, though, which isn't a surprising for a series première. The one that bugged me the most, upon rewatching, is the overwhelming number of tight close-ups on the characters, something that's almost disorienting.
At the end of "Midnight On The Firing Line," Babylon 5 appears to have hit a reset button. Sinclair deduces a way to embarrass G'Kar and the Narns into withdrawing their aggressive raid. We learn much more about the universe and its characters, yes, but Babylon 5 hasn't built enough of a foundation to do really interesting things with them. That'll come, but again—eventually.
Grade: B
Overall Importance: I've mentioned most of the directly important aspects of this episode, but what I always like to consider, in retrospect, is how deeply ironic "Midnight On The Firing Line" is. What makes it interesting initially is how it sets up the core premise; what makes it interesting later on—after dozens of episodes that do what it did, only better and with more impact—is how those premises get subverted by the events in the narrative. It's almost brilliant how perfectly some later episodes mirror this one.
The Great Spoiler Machine: If anything, the dramatic irony of this episode grows almost too overwhelming, in particular, developments in the Talia/Ivanova relationship, and the events of "The Coming Of Shadows." Especially with the latter, creator J. Michael Straczynski almost seems to be mocking television expectations—a joke that takes a year and a half to manifest. And, of course, the twists taken regarding Londo's prophecy are almost perfectly timed and executed over the next few years—but, again, that takes time.
"Soul Hunter" (season 1, episode 2; originally aired 2/2/94)
In theory, "Soul Hunter" should be to Delenn and Sinclair what "Midnight On The Firing Line" was to Londo and G'Kar: an introduction and a showcase. It largely succeeds at the first part, using Sinclair and Delenn as representatives of Earth and the Minbari, and delving into the history of the Earth-Minbari War. Along with the Narn-Centauri conflict, this war is one of the chief historical motivators for Babylon 5's tension early on, so "Soul Hunter" succeeds in world-building.
There are two crucial differences between this week's episodes, though. In "Midnight," the tension comes directly because of the historical conflict, manifesting through the main characters. In "Soul Hunter," it comes from what is essentially constructed as a monster of the week. That particular monster, a rogue Soul Hunter alien, helps deliver some important information, yes, but tension between the main characters doesn't occur this week. It's something that may come in the future, after the Soul Hunter helps Sinclair discover that Delenn is secretly a member of the Minbari ruling body, the Grey Council, but not here yet.
While the setup for future events included in the episode may be reasonably effective, as a whole, "Soul Hunter" falls below a strong level of technical competence. An early scene where Sinclair attempts to grapple with the damaged Soul Hunter ship demonstrates that this is a less technologically progressed society than most televised space operas—but it's also slow, repetitive, and devoid of drama. Another oddly framed scene happens shortly after, when the always-composed Delenn sees the Soul Hunter and goes nuts. Neither Sinclair nor Garibaldi seem to react appropriately, rendering the whole scene bizarrely awkward.
There are also major special-effects issues, especially with the DVD transfers. The CGI set in space looks okay—given that it's 1994, and given that it was not transferred well. It's when the CGI is used alongside the live actors that it gets bad. That includes almost the entire climax, with Sinclair attempting to rescue Delenn from the rogue Soul Hunter, which is pretty damn distracting. But the worst effect isn't computer-generated at all. It's the puppet of the gangster N'Grath, the insectoid representative of the black market on the station. The Vorlon Kosh looks fine despite being a person inside a suit because he's supposed to be an entity inside a suit; N'Grath looks like a person inside a suit when he's supposed to be a mantis-like alien. It's just painful to watch actors attempting to interact with him. (N'Grath will show up a few more times this season, unfortunately, but he's swept under the rug after those.)
Yet there are a few moments of beauty, too. After a small-time crook is killed, his corpse is launched into the sun, as Ivanova and the new Chief of Medlab, Dr. Franklin, watch. Ivanova says a few heartfelt words, and the doctor engages her in conversation, eventually saying "You're a pessimist." She responds, "I am Russian, doctor. We understand these things." There's good straightforward character work here, with Ivanova taking the death very seriously, while Franklin seems to just want to get back to work. Her prayer is lovely as well.
"Soul Hunter" also has a moment where the importance of Christopher Franke's music becomes apparent. The rogue Soul Hunter, locked in a chamber in Medlab, fakes an incident to get his guard close, then punches him and steals his gun. It's a simple, predictable, necessary scene, but Franke's New Age-style score builds and whooshes when it happens, adding a major dramatic oomph to a minor scene. The music in Babylon 5 is idiosyncratic, and I can imagine that keeps some people from watching the show. But I also can't imagine the show without it.
Perhaps the most interesting part of "Soul Hunter" is the first word of the title. There is some debate throughout the episode about whether it would be possible to trap a person's soul, as the Hunters and other aliens claim to. What makes this compelling is that the end of the episode appears to take a stance, with Delenn breaking the balls containing the souls, and something seems to be escaping.
The scene holds an important place in my memory for personal reasons as well. When I was a teenager, talking with science-fiction fans on CompuServe (yes, really), a commenter whose opinions I generally respected discussed why he didn't like B5, and cited this scene as a reason why. The text of the episode, he said, may have indicated ambiguity, but the framing of the scene: positive music, its placement at the end of the episode, and the apparent feeling of satisfaction this engenders all make it quite clear that Babylon 5 considers Delenn to be in the right in this case. This was one of the first encounters I'd had with this form of television criticism. "Soul Hunter" may be an average episode, saddled by a bit too much ambition and a few too many flaws, but that's why, as a critic, I find myself drawn to it. It's trying to say and do big things, and the effort is worth examining.
Grade: C+
Overall Importance: In a direct sense, "Soul Hunter" isn't very important at all, with its only major callback the TV movie River Of Souls, which takes place after the show's fifth season. Sinclair's discovery that Delenn is from the Grey Council adds to the mystery of the first season to some extent as well, as do lines like the Soul Hunter's "You would do such a thing? Incredible." But generally, this is an introductory episode, little more. We'll definitely be hearing more about the Minbari leader Dukhat and the start of the Earth-Minbari war throughout the show.
The Great Spoiler Machine: I had forgotten about Delenn's reaction to Sinclair when she gets rescued. "I knew you'd come for me" is a line that demonstrates more than friendship, and I think it's fairly clear evidence that Sinclair was supposed to have been Delenn's lover, instead of Sheridan.
Stray observations:
I'm partial to W. Morgan Sheppard's over-the-top snarl as the renegade Soul Hunter; he walks the line between belligerence, nihilism, and being totally unhinged.
Sinclair goes to Kosh for political help, and gets this instead: "They are a dying people. We should let them pass." This is a damn ominous statement about two of the most important races on the show.
A quick technical moment that demonstrates Babylon 5's seriousness: During the space fight with the raiders, Sinclair whirls his ship around while maintaining his momentum, as a spaceship would be able to do. Most prior science fiction, especially Star Wars, treated spaceships as aircraft. Babylon 5 makes at least a few nods to science.
"On the issue of galactic peace, I am long past innocence and fast approaching apathy. It's all a game, a paper fantasy of names and borders. Only one thing matters: blood calls out for blood." Londo, perhaps, is a critic of the United Nations-style approach.
"Life's full of mysteries. Consider this one of them," says Sinclair to the second Soul Hunter. The delivery here is also one of the reasons I don't dislike Michael O'Hare. He gets the proper twinkle in his eye.
Since some of you may have missed last week's review, a note on the grading: I'm being deliberately tough. These episodes are being graded according to the best (and worst) of the series overall. "Soul Hunter" is a C+ here compared to "Chrysalis" or "The Coming Of Shadows," not compared to other series in their second episodes, which would probably make it look better.
Next week:
Two episodes for the core fans only, really. "Born To The Purple" does some theoretically important character-building work for Londo, but it's just not competent. And "Infection" can make a strong claim for the worst of the series.