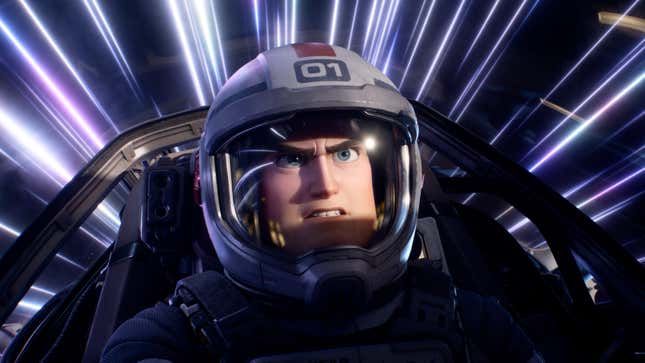 The director and producer of 2022 Pixar flop Lightyear have both been laid off at Disney. According to Reuters, director Angus MacLane and producer Galyn Susman, veteran Pixar employees who'd been with the company since the Toy Story and A Bug's Life days of the 1990s, were among 75 employees cut from Pixar in recent weeks, as Disney engages in staff reductions across the board.
It's been nearly a decade since Pixar last got hit with staff reductions like this, also in the wake of a major flop—although 2015's The Good Dinosaur actually did a bit better at the box office than Lightyear, which made $226 million at the box office off of a $200 million budget, i.e., bupkis.
Lightyear—which purported to be *deep breath* the "real" sci-fi movie that Andy from Toy Story watched, inspiring him to get a Buzz Lightyear toy for his birthday—was drubbed by both audiences and critics alike. (It was also cut from a number of international markets due to very briefly depicting a same-sex relationship, which cut into its earning potential.) Released in mid-2022, the film just couldn't seem to justify its existence, despite the presence of star Chris Evans, and that handy text disclaimer laying out the whole premise of the film.
Disney is in a brutal cost-cutting phase at the moment; the company also announced that it's taking a $1.5 billion impairment charge to try to improve its fiscal standing—which is a fancy way of saying they kicked a huge amount of content off of Disney+ so they wouldn't have to count it as an asset they'd have to pay taxes on. The cuts were handed down back on May 23, as part of a $5.5 billion cost-reduction effort by CEO Bob Iger.