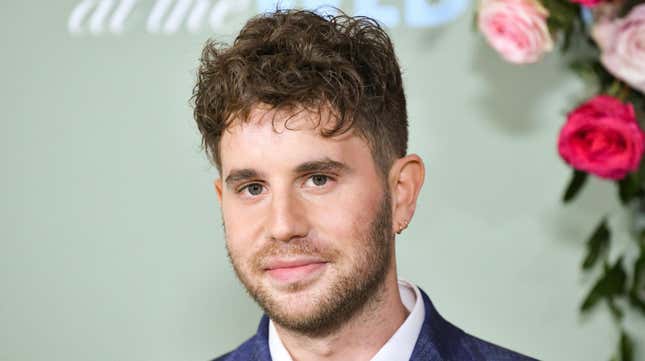 Ben Platt has made a statement after Broadway's Parade revival was picketed by neo-Nazi protesters at Tuesday night's preview performance. Platt stars as Leo Frank, the real-life figure who was arrested and later lynched in connection with the rape and murder of a 13-year-old girl. Evidence against Frank was reportedly circumstantial, and modern reflections on the trial have pointed towards antisemitism as a factor in his conviction (and certainly his murder).
Why Christian Bale just can't quit David O. Rusell
Video of the protest circulated on Twitter, featuring the hate group The National Socialist Movement decrying Frank as a "Jewish pedophile" and harassing theatergoers in attendance. Following the preview, Platt posted a video to his Instagram story addressing the event. "For those who don't know, there were a few neo-Nazi protesters from a really disgusting group outside of the theater, bothering some of our patrons on their way in and saying antisemitic things about Leo Frank, who the show is about, and just spreading antisemitic rhetoric that led to this whole story in the first place," he said, encouraging fans to come see the show and do their own research into the case.
"It was definitely very ugly and scary but a wonderful reminder of why we're telling this particular story and how special and powerful art and, particularly, theater can be. It just made me feel extra, extra grateful to be the one who gets to tell this particular story and to carry on this legacy of Leo," Platt went on to say. "I just think that now is really the moment for this particular piece. And I felt that I just wanted the button on the evening, at least for me personally, to be to celebrate what a beautiful experience it is and what gorgeous work all my wonderful colleagues did tonight, not the really ugly actions of a few people who are spreading evil."
Platt was joined in denouncing the protesters by his co-star Micaela Diamond, who wrote on her own Instagram that it was a "reminder of how important this story is," adding, "We will speak for you Leo." The producers of the revival also released a statement on the subject (per The Hollywood Reporter), saying, "If there is any remaining doubt out there about the urgency of telling this story in this moment in history, the vileness on display last night should put it to rest. We stand by the valiant Broadway cast that brings this vital story to life each night."