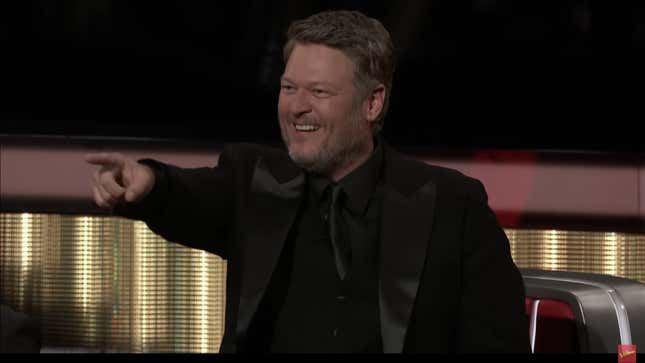 The season finale of The Voice was all about its departing coach rather than the contestants, which is ultimately fitting for a show whose winners tend to fade into relative obscurity when all is said and done. (Non-winner Morgan Wallen being more of an exception than the rule.) No, it was Blake Shelton's night, and the vocal competition feted its beloved curmudgeonly country star with all the appropriate fanfare.
"Andor" star Adria Arjona on Bix Caleen's Journey
To celebrate Shelton's whopping 23-season run on the show, The Voice brought back lots of guests to give him a send-off. The episode kicked off with an '80s medley (Shelton's favorite decade, if you were wondering) from another original Voice coach CeeLo Green with Team Blake alums including Chloe Kohanski, Cam Anthony, Wendy Moten, and Bodie. There were also shout-outs from celebs largely unrelated to The Voice like Dolly Parton, Jackie Joyner-Kersee, Lindsay Vonn, Wayne Gretzky, and Peyton Manning. Host Carson Daly also announced that a commemorative jean jacket would be hung from the rafters marking Shelton's nine coaching wins (the most in Voice history) like a retiring athlete.
For Voice fans, and probably for Shelton, the most touching tributes came from fellow judges. In addition to Green, Shelton's beloved bro Adam Levine returned to see him off (oh, and to perform Maroon 5's new single). A horde of other coaches, including Kelly Clarkson, Miley Cyrus, Jennifer Hudson, Usher, and more, sent in pre-taped tributes wishing him the best. And of course, there was a video from Shelton's wife Gwen Stefani (herself returning as a host next season).
"The Voice is the reason I met Blake Shelton, and my life completely changed after that," the singer said (via Yahoo!), recalling that their "lives were having this parallel destruction happen, then next thing you know, Blake and I were becoming, like, besties, and falling in love." Stefani also revealed that she was having his original big ol' spinning red chair delivered to their Oklahoma ranch. Shelton proudly proclaimed meeting Stefani on the show is "the greatest thing that's ever happened to me in my life."
The Shelton celebration closed out with a performance of "Good Riddance (Time of Your Life)" by Green Day from some more former members of Team Blake, including Bryce Leatherwood, Jermaine Paul, Cassadee Pope, the Swon Brothers, Dia Frampton, Ian Flanigan, Sundance Head, and Danielle Bradbery. According to Daly, there was "not a dry eye in the house" as the show said goodbye to one of its founding fathers.
It should be noted that Team Blake did not win the night; that honor went to Gina Miles, a mentee of new coach Niall Horan. Horan will be returning next season alongside fellow inaugural coach Chance the Rapper, Reba McEntire, and Stefani. But this finale marked the end of an era, and to cap it off, ended with a shot of Shelton with a cardboard box shutting off the lights at NBC. Happy trails!