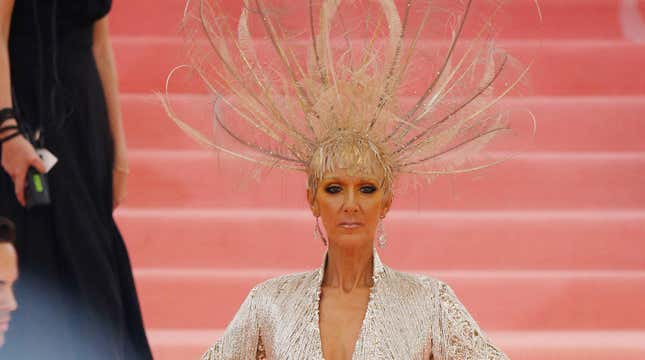 Today, in "Oh thank god, something completely trivial to get worked up about for once" news: The offices of venerable rock magazine Rolling Stone have found themselves beset by the mustered forces of Celine.
That's right: Responding to the magazine's recent publication of a list of the "greatest singers of all time," a hardcore crew of Dion fanatics have decided that their rage will go on, traveling to the Manhattan offices of Rolling Stone this week to launch a protest movement of refreshingly trivial aims. Dubbing themselves "The Red Heads" after—we're assuming—Some Kind Of Celine Dion Thing, the group held up signs and sang Dion songs, eventually meeting with the gamely amused members of the magazine's staff themselves. (Who seemed especially tickled at a sign declaring that "Rolling Stone is stoned," suggesting that the only reason one might leave Celine Dion off a list of the 200 greatest singers of all time is some fairly mild and legal intoxication.)
French Canadian talk show host Julie Snyder was also on hand for the protest, leading Rolling Stone to question how much of the protest was a genuine expression of Celine mania, and how much was simply a TV stunt. (There are also some difficult-to-avoid questions about holding any kind of protest, even a very silly one, two years after the January 6 insurrection; Snyder acknowledged the heaviness of the date, but asserted that, "We think also we can protest with our heart and our song and that the song can help people to get better.") Rolling Stone also reports that, "Another protester entered the building and asked to speak to RS's Editor in Chief Noah Shachtman in an attempt to give him a DVD of Celine's greatest moments," and hot damn but do we wish we could get our hands on that DVD.