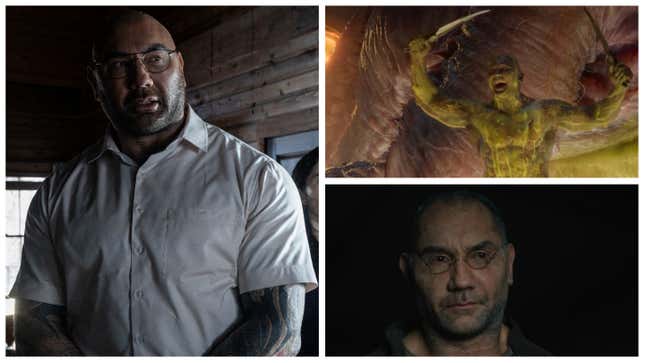 The squared circle-to-silver screen pipeline has never been particularly clean. While there's always a guest spot for jacked-up wrestlers on Young Rock, rising to the level of a movie star is another question entirely. Despite weekly TV time, a feverish cult of fans willing to wear a performer's face on a T-shirt, and a required charisma that engages live audiences and TV viewers alike through pure physicality, successful pro wrestlers' abilities don't always translate to the movies. However, of the few that made the successful jump, your Rocks, Cenas, and Hogans, none have shown as much versatility and dedication as four-time WWE World Heavyweight Champion Dave Bautista.
Across his 10 years of moviemaking, Bautista has built a firm foundation of work that culminates in M. Night Shyamalan's latest one-location pressure-cooker, Knock At The Cabin. The movie gives Bautista so much to chew on, with lengthy, emotionally complex monologues that put his wrestling-born mic skills through the wringer. He couldn't be further from where he started.
Bautista's journey resembles his contemporaries, but he popped earlier and more forcefully, becoming an unexpected breakout in Guardians
Of The Galaxy. It's long been said that Marvel doesn't produce movie stars and that people are going to see Captain America, not Chris Evans. That isn't true with Drax, a deep-cut, idiosyncratic character in a cast filled with them, and Bautista stole the limelight with the most original, infectious, and hilarious performance of the lot.
These things aren't an accident. Playing an unflappable, irony-averse character is challenging, especially in a movie when your screen partner is a baby tree, a talking raccoon, and a living planet. Yet, Bautista found a deft balance with the character that could be antagonistic but is nevertheless reflective of real-world experience, becoming a hero within the Autism community. "It's a wonderful thing that he's part of this group, that he's living his own life, that he's dealing with things on his own," Matt Asner, vice president of development for the Autism Society of America, told ABC News. "That's what we need to get to, characters that are autistic and just a part of the world on the screen, instead of making a statement about it." Today, Bautista might, unfortunately, consider Drax "a silly performance." It's a shame. If Marvel movies generally lack humanity, Bautista's Drax is an argument against that.

That's not to say other wrestlers aren't hitting their work with deep emotion. John Cena has proven himself to be one of the most exciting stars of the last decade. His performances as an overly protective, butt-chugging suburban dad in Blockers hit some classic Schwarzenegger beats, a la Kindergarten Cop, with more comedic confidence and vulnerability.
G/O Media may get a commission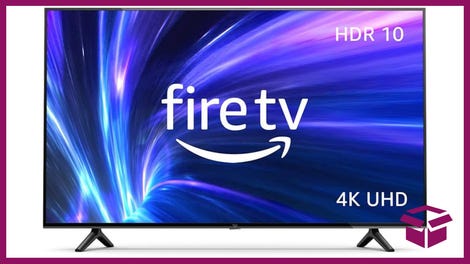 42% Off
Amazon Fire TV 50" 4K Smart TV
But, once again, playing a superhero helped him find his footing. He comes up big in The Suicide Squad and Peacemaker. As in the ring, Cena's square jaw and massive frame play off his sullen eyes. No one looks more hurt when crowds shower him with boos, and he's been able to transfer that to the surprising pathos of Peacemaker. Through his work with James Gunn, Cena tapped into his innate sad clown energy, and watching him wield such a low-status interior in that body is captivating. When he's not playing into that, though, things are dicier. There's more to be said about his never-ending zip-line than his performance as "Jakob" in F9: The Fast Saga.
There's a feeling in F9 that Cena is here to replace Dwayne "The Rock" Johnson, a once-promising actor who spent the last decade over-calculating and underdelivering. Armed with contractual stipulations regarding how many times he can be punched on screen, The Rock has settled into his persona as a tan T-shirt enthusiast too quickly. There are no stakes for the Rock because he doesn't let the audience see him fail. When we see Johnson, whether it be on the red carpet or in Jungle Cruise, it's always through a thick film of corporate synergy. He'll show up, rattle off a couple of gravelly one-liners, plug his tequila, and move on to the next step and repeat.
Bautista isn't above some of the calculations of his fellow WWE Legacy Superstars. His filmography features four characters with one-syllable names that end in "X" (Cox, Hinx, Knox, and Drax). He also has a big-guy/little-guy buddy comedy, Stuber, mirroring the Rock's numerous outings with Kevin Hart, and his take on Hulk Hogan's Mr. Nanny with My Spy, an apparent requirement for all wrestlers as they try to hit all four quadrants. The difference is Bautista's begun veering away from those types of roles and into ones that require more of him as an actor, not just a presence.
Bautista followed Guardians Of The Galaxy Vol. 2 with a one-scene Batista Bomb in Blade Runner 2049. And that it happens without context, setup, or even an introduction, makes it all the more impressive. Ryan Gosling's Officer K arrives at a desolate cabin (more on that later) to discover a soft-spoken, bespectacled protein farmer named Sapper Morton. Director Denis Villeneuve ratchets the tension through the actors' size differentials and slow-burn action. There's a stillness to Sapper while the rhythms of the scene's editing lock to Bautista's shifting eyes, craning neck, and finally, an explosion of strength.
Like in the ring, Bautista allowed someone much smaller and squirrellier to outmatch him. He sells the audience on K's power, providing the rest of the movie with an understanding of Gosling's abilities. Unlike the Rock, we can see his pain even before Gosling punches him in the neck. Bautista has a natural way of communicating with the camera that sells the fights and a whispered intensity that lands lines like, "And you younger models are happy scraping the shit because you've never seen a miracle."

As sensitive as Bautista is in Blade Runner 2049, in Glass Onion, he finally gets a chance to spoof the masculinity someone of his ilk would champion. His Andrew Tate-inspired bodybuilder is the perfect MRA grub for a tech bro with more nefarious aims. Just as Elon Musk keeps a gaggle of incel influencers at his beck and call, Miles Bron (Edward Norton) has his masculinity guru to infect disaffected young men online. Duke Cody (Bautista), Bron's meathead nonsense spouter, weaponizes the actor's frame as a physical threat and victim of the right-wing echo chamber from which he profits.

There's something sympathetic about Bautista, and it's felt throughout Knock At The Cabin. With his shirt sleeves, wrinkled brow, and bulging muscles that evoke a tied ham, Bautista is a physical imposition in the movie and a source of warmth, humanity, and intense fear. His introduction, as a giant approaching an 8-year-old Wen (Kristen Cui), disarms the audience with his gentleness and remorse. A hidden pain in his voice elicits trust and fear in Wen and the audience.

Knock At The Cabin is a monumental test for Bautista. Playing a zealot, who also happens to be a 6-foot-4 tattooed second-grade teacher, Bautista crowds every frame of Knock with tragic innocence and religious sincerity, a paradoxical performance that holds the movie together. His mission is two-fold: He must convince a family to kill one of its members or doom the whole world and convince the audience that his ludicrous proposition could be true.
Throughout the movie, Shyamalan gives you almost no reason to trust him, siding with the victims that this is another example of the internet conspiracy brain poison that led to an insurrection. Still, the conviction in Leonard's voice is unwavering. He will take this as far as he needs to, and his determination drives the movie forward.
It's not an easy transition for wrestlers, and even the best examples, like Andre the Giant and Roddy Piper, worked best in specific cases. Bautista, however, feels like the first to take acting seriously as something other than a brand extension, revealing new layers of talent with each of his performances. But this isn't a competition. Each of the performers discussed has different career goals in terms of performing. If Bautista's is to be a great actor, he's already wearing the gold.