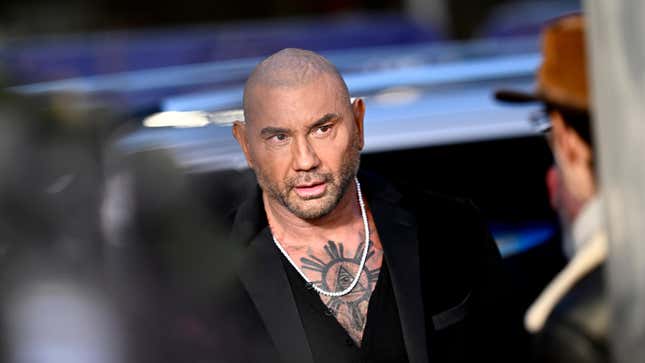 Sure, Dave Bautista has been to Arrakis, but the next thing he's looking for in his acting career is more along the lines of a coffee shop meet-cute. While the Dune actor is the star of M. Night Shyamalan's new apocalyptic thriller Knock At The Cabin, he's on the hunt for a very different kind of role: a romantic comedy.

"I know I'm not your typical rom-com lead," Bautista tells Page Six. "I'm a little rough around the edges. But I always, you know, I look in the mirror and I say, I ask myself, 'Am I that unattractive? Is there something that unappealing about me that excludes me from these parts?'"
Of course, the genre in general has been in a state of flux, largely shifting from theatrical to streaming. Romantic comedies with Asian American leads only gained significant visibility in even more recent memory, with the 2018 releases of Crazy Rich Asians and To All The Boys I've Loved Before.
"I don't know," the Army Of The Dead star continues. "It's just never come my way. I've never had an offer to do a rom-com. I still have high hopes. I'll just keep searching."
Bautista has also expressed an interest in "regular old drama" and playing Ernest Hemingway. While promoting Glass Onion: A Knives Out Mystery, director Rian Johnson noted Bautista as the greatest wrestler-turned-actor, saying, "I think somebody like [Paul Thomas Anderson] is going to give him a real part and is gonna look like a genius." Could the successor to Punch-Drunk Love be in his future?
The Blade Runner 2049 actor doesn't have to worry about staying busy until he lands his dream rom-com role. Bautista also has Dune: Part Two and Guardians Of The Galaxy Vol. 3 coming out later this year and is about to enter production on My Spy 2.