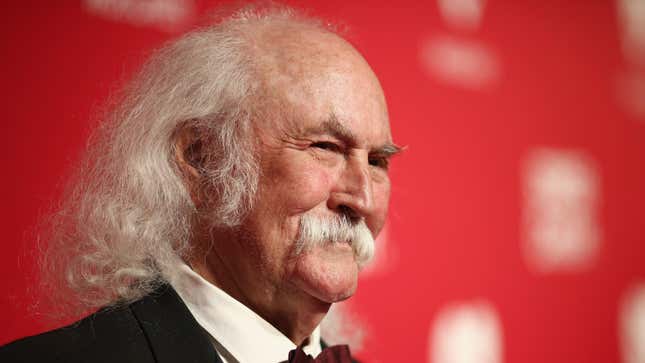 Musicians have been known to spread their creative endeavors into the filmmaking world: Prince, Lady Gaga, and Nick Cave immediately come to mind. So, it only makes sense that rock legend and former drama student David Crosby (who died at the age of 81 this week) was prepared to venture into Hollywood ambitions back in the 1970s—until a last-minute request for collateral on his apocalyptic hippie film from United Artists ended the movie before it could even begin production.
The Crosby, Stills & Nash musician had signed a deal with United Artists to produce and score a film given the working title of Family, according to Variety. Described by Daily Variety in 1971 as a "nonmusical, no-plot, just a day-in-the-life-of people picture," Family was intended to be directed and written by a pre-Jaws fame Carl Gottlieb, who worked alongside Crosby on the film's very 1971 story about a group of hippies trekking across the decimated landscape of an unknown world.
"It was kind of a hippie idyll," Gottlieb told Variety about the unmade movie. "It was basically a dawn-til-dusk, group-eye-view of a post-apocalyptic world in which an extended family group is moving. Within the group there's old people, young people, babies and horses and all that stuff. It was meant to be a documentary about a non-existent world."
While the film certainly sounds on the pulse during the age of hippies and the Vietnam War, we'll never know if it would have been a hit or a box-office miss. Right before Family was ready to begin filming in May 1971, United Artists asked Crosby for collateral towards the film's budget—that collateral being his song's publishing rights.
Thankfully, Crosby's manager at the time David Geffen (future co-founder of animation studio DreamWorks Pictures) recognized how bad of a deal that was and advised the singer to turn it down, recalled Gottlieb.
"The studio wanted David to put up his music for collateral. David Geffen, who had a real understanding of music publishing, said 'No way are we going to do that,'" said Gottlieb. "So the movie never got made. We packed everything and went on about our lives."
While we'll sadly never get to experience Crosby and Gollieb's vision of a peace and love dimension, Crosby did eventually get a taste of Hollywood by starring in episodes of Ellen, The Simpsons, and having a cameo as a pirate in Steven Spielberg's Hook.