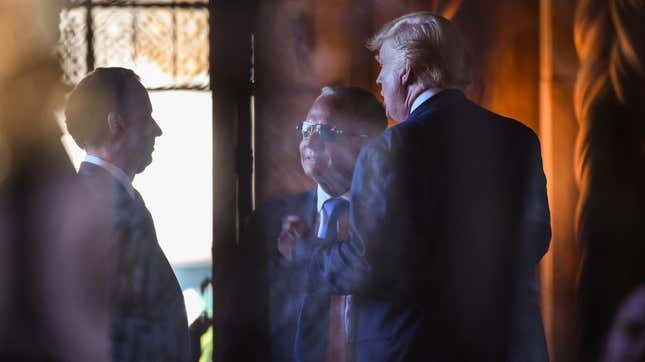 After 30 years of penny-pinching, employee berating, and shadowy government activity, Ike Perlmutter is Marvel CEO no more. As part of Disney's massive layoff initiative, the company has fired the reclusive head of Marvel Entertainment, the comic book, product, and licensing wing of the company (not to be confused with Marvel Studios, which produces the movies). According to The New York Times, Disney made Perlmutter redundant after the conglomerate folded his Marvel Entertainment into the larger Disney fold.
Perlmutter will likely be remembered both as someone who changed Marvel forever and, ultimately, a large liability for the increasingly criticized studio. He withstood numerous controversies during his tenure, including telling an employee he "had a bullet with her name on it" and secretly advising Trump's Veteran's Affairs from Mar-a-Lago. He is also responsible for one of the most lucrative sales in Hollywood history.
Ike Perlmutter has long been a controversial presence at Marvel
While he may not be as well-known as Marvel Studios head Kevin Feige or Disney's Bob Iger, Perlmutter's history with Marvel cannot be overstated. Along with Avi Arad, Perlmutter acquired Marvel in the 1990s when the company filed for bankruptcy. The pair was in the toy business, running the appropriately-named ToyBiz, which made action figures for the comics publisher. However, he was not always respectful to his product or consumers. For better or worse, the now-ousted CEO is responsible for selling Marvel to Disney for $4 billion in 2008. In the mid-10s, he reportedly canceled seminal comic-book titles, Fantastic Four and X-Men, because the company didn't own the movie rights and didn't want to advertise Fox's film series.

Suspiciously enough, while the heads of Pixar and LucasFilm appear on Disney's website, Perlmutter did not, which signals how much Disney valued that relationship. Cozy with former President Trump, Perlmutter is one of the "Mar-a-Lago Crowd," a shadowy group of three who advised the Department of Foreign Affairs, a famously well-run organization that flourished under Trump and, per ProPublica, tried to convince the VA to sell veterans' medical records.

But don't worry—Perlmutter also faced allegations of sexism and racism. This is the guy who, in response to Sony developing a female superhero movie in the Spider-Man universe, sent emails about "Female Movies," like Electra and Catwoman, as reasons not to. Moreover, a 2012 Financial Times profile alleges that Perlmutter argued for replacing Terrence Howard with Don Cheadle for Iron Man 2 because Cheadle was cheaper, as well as for more racist, more nauseating reasons.
The first movie featured an African-American actor, Terrence Howard, as Colonel Jim Rhodes. Don Cheadle, another African-American actor, was hired for the same part in the sequel at a cheaper price.

Mr Perlmutter apparently told Mr. Mooney the change cut costs. He allegedly added words to the effect that no one would notice because black people "look the same".
There are also random, weirdo allegations. For example, a former NYPD sergeant says Perlmutter traded tickets for Marvel premieres in exchange for expedited gun permits. Always a good sign.

Is Marvel's Iron Man armor rusting?

The news of Perlmutter's ousting comes amid a sudden downturn in Marvel's public image. The seemingly bulletproof Marvel Studios is currently fighting ongoing allegations of exploiting and overworking visual effects artists. The VFX controversy is only part of the problem of the studio's overall quality—Ant-Man And The Wasp: Quantumania has quickly become an oft-cited example of Marvel's overexposure and audiences' superhero fatigue. Despite making over $465 million, Quantumania received some of the sharpest criticisms of Marvel's herky-jerky and underwhelming Phase 5.
Last week, the company fired another longtime employee, Victoria Alonso, President of Physical, Post Production, VFX, and Animation. Alonso's firing was said to be "for cause"—though it seems more likely that she was let go for participating in Netflix's Oscar nominee Argentina, 1985. Disney claims she breached the contract working on the film. She alleges they gave permission and silenced her as an LGBTQ+ woman of color. Regardless, the headlines regarding VFX don't seem to have had much to do with her firing. After all, when has a movie studio ever fired someone for undervaluing and exploiting below-the-line workers?
And while it's tempting to say that Perlmutter was pushed out because he seems like an awful guy to work for, he was more likely fired for starting a proxy war with Bob Iger. Perlmutter reportedly wanted to install his friend Nelson Peltz on the Disney board. Per The Wall Street Journal, Disney saw his attempt at pushing Peltz as an attempt to "overhaul the company's board." The overstepping was seemingly the final straw for Iger, who reportedly couldn't stand Perlmutter. The Journal continues:
Iger and Perlmutter have had a tense relationship since 2015, when Mr. Perlmutter's quarrels with current Marvel Studios chief Kevin Feige over budgets and movie slates grew so intense that Mr. Iger, then in his first stint as Disney's CEO, intervened and removed Mr. Perlmutter as CEO of Marvel's movie studio, according to people familiar with the matter. Mr. Iger later stripped Mr. Perlmutter of further responsibilities, including control over Marvel's television shows, heightening the acrimony between them, these people said.
After Iger announced the 7,000 layoffs, it was probably an excellent opportunity to pull the thorn from his side.
Perlmutter's frugalness may have pulled the company from the brink of collapse, but his practices also degraded and devalued his empire, often at the expense of his employees and consumers. Frankly, it's surprising that his reputation didn't do more harm to Marvel's brand; in fairness, that may be more praise for how effectively Iger and Feige guarded Marvel Studios against him as he was busy putting a hole in the VA from a table at Mar-a-Lago. Nevertheless, it's certainly the end of an era for Marvel, one that few are likely to miss.