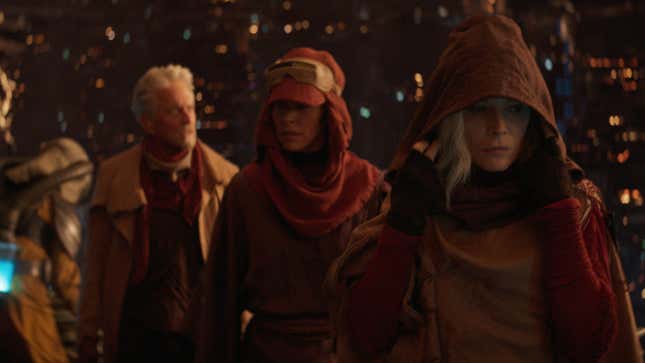 It may be hard to muster up sympathy for an employee of the Marvel Cinematic Universe, seeing as how it's the biggest, most successful movie studio in the world and even its relative "flops" still make gobs and gobs of money. But if you were a longtime comic book fan whose first chance at writing a superhero movie (or, actually, any movie) and your film was one of the worst-reviewed the studio had yet produced, it might hurt your feelings, too.
Dwayne Johnson on why "Black Adam" was the movie he had to make
"To be honest, those reviews took me by surprise. I was in a pretty low spot… Those were not good reviews, and I was like, 'What the …?'" screenwriter Jeff Loveness told The Daily Beast of Ant Man And The Wasp: Quantumania's negative critical reception. "I'm really proud of what I wrote for Jonathan [Majors, who plays the villain Kang the Conqueror] and Michelle Pfeiffer [scientist Janet Pym]. I thought that was good stuff, you know? And so I was just despondent, and I was really sad about it."
Ant-Man has had a rough go of it at the box office, but mostly just by Marvel standards; rest assured, Avengers are still putting butts in movie theater seats. Even with an MCU-low of 48% on Rotten Tomatoes (beat out only by Eternals), the film's audience score is a solid 83%. Loveness, whose prior experience is limited to being a staff writer for Jimmy Kimmel Live!, Rick And Morty, and actually writing Marvel comics, experienced this populist revolution for himself when he attended an opening weekend showing of the movie.
"I'm like, 'Goddamn! No, [the reviews] are wrong! I'm right! MODOK is great!'" He reflected as audience members chuckled around him. "I'm pretty happy with it overall, and I think I learned how to take a punch this week. And now that I learned that it's not too bad, I can just get on with making things."