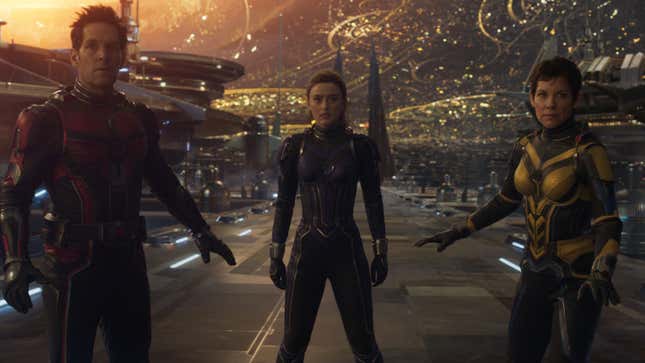 The breakneck speed with which Marvel Studios operates is a far cry from its beginning. Last year, the company released three feature films, three TV shows, and two TV specials. Unfortunately, none of these came cheap or easy, whether it's nine episodes of She-Hulk and one episode of The Guardians Of The Galaxy: Holiday Special.
But the main show, the movies (it's still the Marvel Cinematic Universe, last we checked), is starting to show cracks in the Studio's once-believed unstoppable success. No one feels the crunch harder than the visual effects technicians creating the distant worlds that used to elicit wonder. Speaking with Vulture under the condition of anonymity, VFX technicians explain that the problems at Marvel are found throughout the visual effects industry—though, Ant-Man suffered greater under the burden.
The primary issue was simultaneously making Black Panther: Wakanda Forever and Ant-Man And The Wasp: Quantumania. "Wakanda Forever was definitely at the top of the list," one VFX tech said. "It's understandable given the context — with Chadwick and everything and how well the first film did. But it did diminish the ability to carry Ant-Man all the way through."
The tech says there were noticeable "shortcuts" taken with Ant-Man "used to cover up incomplete work." These shortcuts resulted in the feeling that "certain scenes were trimmed" to save money, time, or to "cover up the inability to get it done." Still, they said technicians are treated as secondary to the almighty dollar. "If it comes down to them not being comfortable with their bank numbers and us working until burnout, we lose out every time. Honestly, I equate it to human greed […] Marvel is doubling down as much as possible on constricting quality. They're squeezing blood out of stones. And we're out of blood."
Not all the techs interviewed had such a dire experience. For example, a photogrammetry veteran said the Quantumania experience was "comparable to the majority of production," which is to say, "a lot of unpaid overtime, unrealistic deadlines." Nevertheless, they disagreed with their colleagues that "other projects necessarily took priority or that morale was particularly bad." Instead, they conceded that their "working conditions are often less than ideal, and Quantumania was just another in a long line."
However, one VFX artist refutes that, stating that "Wakanda Forever took precedence" while Ant-Man was put "on the backburner."
They continued:
Maybe the director had an idea of what he wanted, but he wasn't 100 percent clear. We had a rough environment that we were sticking a few main characters in. At that time, we weren't told where the characters should be in that environment. We were just going with what felt right.

Then there were times when we were creating an actor's entire action: Ant-Man moving across something. And you just think, Why didn't they film it the right way or how they wanted in the first place? Why are we having to redo and re-create? Why do we have to Frankenstein together an actor's performance? A quick shot that maybe takes two seconds would have to be redone 20 times to get the look that they want. There was a lot of reworking, a lot of inefficiency. I ended up taking over and reworking a large portion of other artists' work — which is not how things usually go when you are working for other studios.
The piece comes after numerous reports of VFX houses undergoing intense bidding wars for Marvel's business, forcing them to undervalue their work to secure the most important player in town. As a result, the conditions of VFX workers are comparable to the crunch found in other tech-heavy industries, like video games. Unfortunately, it sounds like the after-effects of this treatment are ending up on the screen.