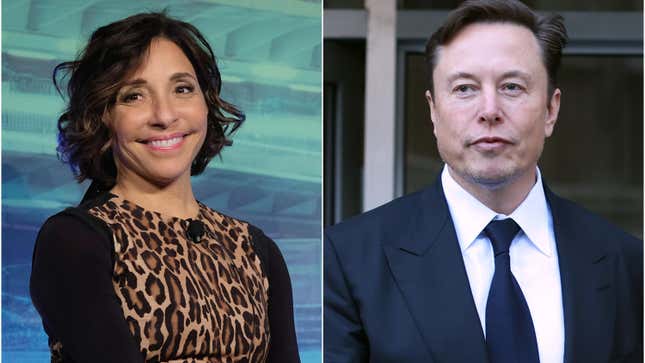 Someone must've spotted white smoke over Twitter HQ, because we have a new Twitter CEO. Linda Yaccarino, former global advertising chair at NBCUniversal, is set to ascend to the top of the bird app's food chain. Chief Twit Elon Musk is finally fulfilling his promise and "will transition to being exec chair & CTO, overseeing product, software & sysops" so it's safe to say that he'll still have a hand on the reins, but he now has someone conveniently on hand if anybody needs to be pushed off a glass cliff.
Elon Musk ignores Jimmy Fallon death hoax
"I am excited to welcome Linda Yaccarino as the new CEO of Twitter!" Musk tweeted on Friday. "@LindaYacc will focus primarily on business operations, while I focus on product design & new technology. Looking forward to working with Linda to transform this platform into X, the everything app."
The blue check brigade, which now consists of folks who fell for Musk's scheme to trade $8 for some dubious extra features and an even more dubious sense of superiority, does not seem to be thrilled with this decision. Upon discovering (re: a tweet from user Pat Webb) that Yaccarino is Executive Chair for the World Economic Forum, Twitter Blue users deemed the hire "disappointing" and a "disaster." In a poll with over 23,000 votes, 73.8% voted that they do not approve of Musk's choice for CEO. Multiple respondents said they'd cancel their Twitter Blue subscriptions over the hire. "This can't be true—surely not her, he would have vetted her completely," lamented user @BigMouth_Baby. "Looks like Elon is controlled opposition…" wrote user Sandile S Ngweny.
The opposition is apparently "social justice warriors" and the "woke," a member of "corporate mainstream NBC" and the "global elite." These are all online conservative talking points if not outright Q-Anon territory, which is, in fairness, the user base that Musk has been actively courting of late. (For what it's worth, Yaccarino is a Donald Trump appointee who follows a number of ultra-conservative figures on her own Twitter account.)
Twitter has essentially been in freefall in the months since Musk took over, so one presumes the advertising expertise Yaccarino brings to the table is needed. Alienating Musk's most dedicated audience in the process, however, makes the enterprise seem all the more precarious. As much as Twitter clearly needs an adult in the room, it's telling that he's chosen a woman to be the face of a company in crisis. He'll still have lots of executive power, but now with the added bonus of being able to direct blame to someone else should things (continue to) go wrong. They say the mark of a good compromise is when no one's happy—and well, no one can really say they're happy with Twitter these days, can they?