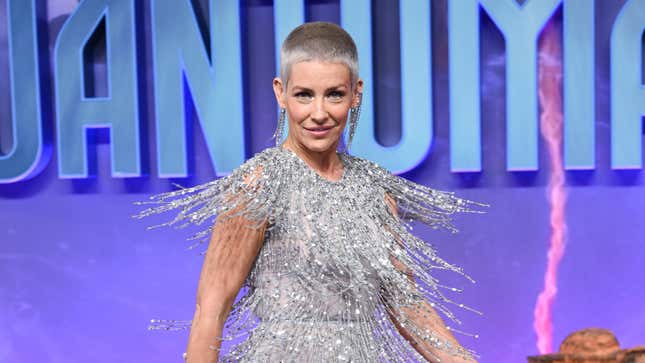 Here's a quick tip, if you're ever called—possibly as the result of embarking on some ill-advised and asinine internet debate—to determine who is the David (small, rock-equipped) and who is the Goliath (big, smash-y) in any given situation. Take a quick look around, and check to see if either participant in this Bible-flavored contest of strength is being backed by one of the planet's largest entertainment conglomerates. That one? That's your Goliath.
"Doctor Strange" stars Benedict Wong and Rachel McAdams on navigating the MCU
Or not, per Ant-Man And The Wasp: Quantumania star Evangeline Lilly, who's on her own personal version of a press tour for the Marvel film this week. Specifically, Lilly was talking to Esquire about comments she made back in January 2022 after attending a rally against vaccination mandates in Washington, DC, after which the actor asserted that she was bravely standing up against the tyranny of people being required not to spread deadly viruses all over each other. (At the time, Lilly said of vaccination mandates, "This is not the way. This is not safe. This is not healthy. This is not love. I understand the world is in fear, but I don't believe that answering fear with force will fix our problems. I was pro choice before COVID and I am still pro choice today.")
Now, Lilly says she was, for some reason, nervous making those anti-scientific, abjectly dangerous comments, stating that she thought at the time, "I know the beast that I'm attacking. I know that I have a little pebble and there's this fucking Goliath giant. If I shoot this pebble, it's going to wake the giant." And even Esquire, mostly hagiographic in the profile, notes the patent absurdity here, of an actor busy starring in a multi-million dollar film franchise, with millions of social media followers, positioning herself as the plucky underdog just speaking her truth.
And, have no doubt: Lilly still clearly has Marvel and Disney's support; just this week, she also told the Happy Sad Confused podcast that Marvel and Disney have repeatedly asserted their support to her and pushed back on rumors that she might be recast over her resistance to vaccine requirements. Here's the full quote:
They're very respectful. In fact, I've had direct conversations with them that I have instigated and they've always said, "That's not our business. That's not for us to tell you how to live your life or what opinions to have." And I actually even got a really supportive phone call from [Ant-Man director] Peyton Reed at one point and just saying like, "Just so you know, there's some rumors spreading about Marvel ditching you or canceling you. And that didn't come from Marvel and that didn't come from us, so just ignore that."
So not exactly David vs. Goliath, unless Goliath had a billion-dollar marketing budget backing him up that we never actually heard about.