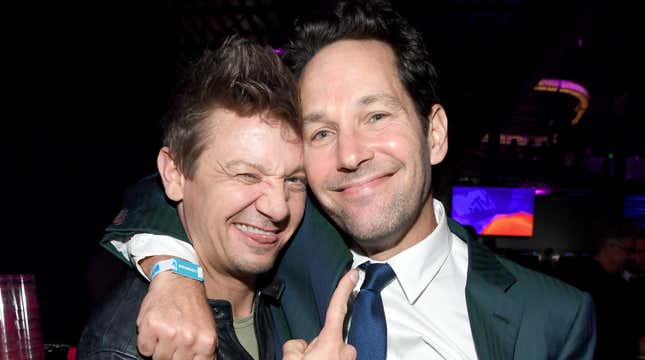 While promoting Ant-Man And The Wasp: Quantumania, the latest entry in the Marvel Cinematic Universe, stars Paul Rudd and Evangeline Lilly have shared an update on Jeremy Renner after the fellow Avengers: Endgame actor was injured in a snow plow accident on New Year's Day. Renner reportedly sustained "blunt chest trauma and orthopedic injuries," which he later confirmed to be "30 plus broken bones." As he works to get back into fighting/Rennervating shape, the Hawkeye star has been supported by his fellow Marvel heroes.

"I talked to him yesterday, yeah, he's doing alright," Rudd says in an interview with Entertainment Tonight. "He's doing well. He's the best guy, he's awesome."
Meanwhile, Lilly has visited Renner at his home, where he has been recovering since being discharged from the hospital following two surgeries.
"I walked in his house and got chicken skin because I was like, 'Why are you mobile? Why are you mobile? What's happening?'" the Lost actor tells Access Hollywood (via Variety). "I expected to sit at his bedside and hold his hand while he moaned and groaned in pain and wasn't able to move. He was wheeling himself around, laughing with his friends. It's a miracle. It's a straight up miracle. He's made of something really tough, that guy. You've always been able to see that in him and he is recovering incredibly."
Of course, the Oscar-nominated Renner is quite an enterprising fellow, and it's not surprising that he would tackle physical therapy with the same gusto as singing, house flipping, and running an app dedicated to himself.
"It was really intense. I mean, he had a near-death experience that was highly traumatic, and he was awake for the whole thing," Lilly adds. "I'm still having moments where some of the stuff he told me that he experienced and retelling me the story of what went on and the things he could hear and the things that he could see."
Though it's remarkable that Renner survived the accident in the first place and he has a long recovery ahead of him, the Mayor Of Kingstown actor is clearly eager to "get back on [his] feet" and head back to work on his upcoming Disney+ series Rennervations.