If there were one thing it felt like Fallout 4 could've used more of, it was heart and soul. There were some intriguing stories among The Commonwealth's countless people and places, but outside of those precious few, things were as gray as the game's vast bombed-out Boston. Maybe it's a result of the smaller scope a focused chunk of downloadable content affords, but Far Harbor, the game's first major expansion, rectifies that want within minutes and goes on to take a more personal, affecting approach to Fallout 4's themes.
Your trip begins with a plea from a friend of a friend. A buddy of Nick Valentine, android detective extraordinaire and undoubtedly Fallout 4's most memorable character, is searching for his daughter, Kasumi, and seeks your help. The first stage of your investigation is more like Gone Home than Fallout, as you dig through the family's home for any hints of where she might have headed. The clues you turn up reveal a young woman who's struggling with her identity and set out in search of a place where she can feel more at home. While it's yet another missing persons case—the foundation for so many of Fallout 3 and 4's stories—the relatable details of Kasumi's pain and the intimate nature of their revelation instantly make this mystery more gripping than anything in the main game.
You follow Kasumi's trail to Far Harbor, one of the last bastions of humanity on a mysterious island off the coast of Maine. The island is covered in a radioactive fog that has mutated its animal inhabitants into nightmarish forms, and the only things keeping the town from destruction are fog-eating machines and good old-fashioned frontier survivalism. Naturally, things go haywire as soon as you turn up, with a monster attack damaging the Harbor's defenses and rousing the townspeople's violent hatred of The Children Of Atom, a fanatical cult that embraces radioactivity and whose local leader would love nothing more than to see the fog wipe out Far Harbor. Stuck in the middle of this blood feud—literally, if you're looking at the island's map—is Acadia, a refuge where synths who've escaped The Institute can live as themselves without fear of being discovered and persecuted for what they are. In your quest to get Kasumi home, you'll have to navigate the tensions between all three communities.
G/O Media may get a commission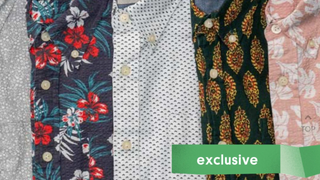 Grab three styles!
JACHS NY Summer Pack
In that way, Far Harbor plays out like a horror-tinged microcosm of Fallout 4 proper, but here, the conflicting factions are given far more nuance. Unlike The Brotherhood Of Steel, The Children Of Atom aren't all a bunch of violent zealots. There are good people there, too, people who've reluctantly joined the church because it offers safety and direction. They're willing to put up with all the radiation sickness if it means belonging to a family. Meanwhile, Acadia is an explicit foil to the Railroad, the main-game faction that fought for the freedom and equality of The Institute's synths. While their missions are similar, Acadia's leader is quick to point out that The Railroad's methods—which include hiding synths away and rewriting their memories so they think they're human—are just as harmful to a sentient being as any physical dangers The Institute may pose. Far Harbor is the least interesting of the bunch, but even that crew has a certain charm in its camaraderie and scrappiness.
Dreary as it is, the island has its distinct local charms, too. Like the Sunset Sarsaparilla of New Vegas, this region has its own popular soda named Vim!—an obvious send-up of Moxie, the official soft drink of Maine. Harpoon guns and old-timey rifles are the weapons of choice for local madmen and allies alike. That fog, meanwhile, is a unique oppressive force, slowly damaging you over time and, worse, aggressively limiting your vision. Having already choked the life out of what was once a proud New England forest, it blankets the island's craggy landscape and hides its nautical abominations. Fallout 4 didn't introduce a single new irradiated monster—unless you count those annoying two-headed deer—but Far Harbor pits you against several new beasts, each more disquieting and cleverly designed than the last.
All of those idiosyncrasies add up to make Far Harbor a place and an expansion that feels different enough to break the monotony of Fallout 4. At nearly 20 hours worth of quests to undertake and wildlands to explore, that same tedium threatens to kick in, but there's enough pathos in its stories and weirdness in its sights—one of the first things I did was talk my way into the bed of an old-world Hollywood starlet who'd shoved her brain into a robot body that looked like a trashcan on tank treads—to easily sustain that runtime. More impressive is how Far Harbor's writers took Fallout 4's themes of community and the meaning of home and turned them inward. It's important to remember that no matter what faction you belong to, we're all just trying to survive in this world.