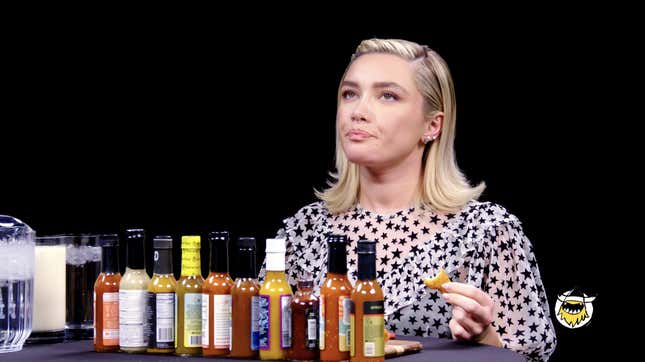 The day is finally here: Noted Hollywood foodie Florence Pugh is this week's guest on Hot Ones, the beloved YouTube interview series featuring celebrities struggling to answer questions as they eat increasingly spicy wings. The A Good Person star is a natural fit for the show, thanks to her delightful Instagram cooking videos and a fan-favorite scene from Marvel's Hawkeye where her character Yelena Belova adds a generous amount of hot sauce to a bowl of macaroni and cheese.
"That was pretty much my idea to essentially have a dream day at work and eat mac and cheese all day long," Pugh recalls. "They had Sriracha on the table as a prop, and I was like, 'Is this real?' The props guy goes, 'Yeah, it's real.' 'Great!' So every single take, I'm just shoveling in mouthfuls of Sriracha."
Yelena has only recently been broken out of life as a brainwashed assassin, so it's understandable that her first taste of freedom would also involve getting to choose her own food. As her story continues in Thunderbolts, hopefully she'll get to fit in some good onscreen snacks.
"I think eating on camera is so cool, especially when you get to actually eat and swallow," Pugh says of her work in Sebastián Lelio's The Wonder. "Because most of the time when you're shooting things, they're all like, 'Don't eat it, don't touch it, this is going to be a long day, make sure you just nibble.' It's one of my biggest pet peeves when you watch a scene and someone's just moving the food around the plate and doesn't actually eat it."

The Fighting With My Family star also recounts discovering a particularly unsettling element of Midsommar's set design and brings Cooking With Flo to Hot Ones as she makes host Sean Evans her perfect cup of tea. The actor could use the caffeine with a big year still ahead of her, with Oppenheimer and Dune: Part Two on the way. (First We Feast's talent booker is presumably waiting until Wonka comes out to get Pugh's Little Women and Dune: Part Two co-star Timothée Chalamet to talk about his most iconic food scenes instead of tying it to, you know, that movie where his character feasts on human flesh.)