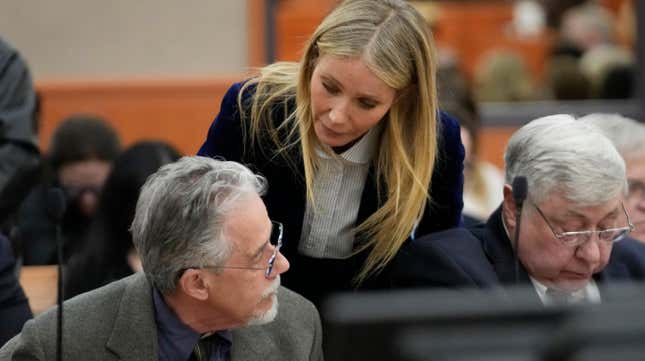 In what normally would have been the biggest legal news of the day, Gwyneth Paltrow was found not responsible (or, as Variety delightfully put it, "Gwynnocent") for a 2016 skiing collision on Thursday. She was brought to court by retired optometrist Terry Sanderson, who claimed she caused him broken ribs and brain damage. Both parties argued that the other had been the one to run into them on the slope; Paltrow was awarded $1 in her countersuit.
Daymond John really wanted to ask Gwyneth Paltrow about "Shallow Hal"
"I felt that acquiescing to a false claim compromised my integrity," Paltrow posted on her Instagram Story following the verdict from a jury that surely did not consist of Paltrow's peers, considering the Goop CEO presumably doesn't have any. "I am pleased with the outcome and I appreciate all of the hard work of Judge Holmberg and the jury, and thank them for their thoughtfulness in handling this case."
The two-week civil trial produced a number of memes and viral moments, and the conclusion was no exception. Images of Paltrow stopping to murmur in Sanderson's ear (above) before exiting the courtroom immediately made waves. While Twitter users proposed many amusing alternatives to what Paltrow may have said in the moment, Sanderson told reporters outside the courtroom she graciously whispered, "I wish you well."
Asked by reporters if he felt the lawsuit was "worth the trouble" (per Deadline), Sanderson admitted, "Absolutely not." As to whether his legal opponent was lying, he said, "I believe she thinks she has the truth."
"You get some assumed credibility from being a famous person," Sanderson lamented while expressing his disappointment in the trial's outcome (via CNN). "Who wants to take on a celebrity? No wonder I hesitated, right? It's difficult. Who wants to do that? Someone who learns lines, learns how to play someone else's part and be believable, be credible, wins awards? Who wants to go on that path." Now we know what happens when you mess with the Goop.