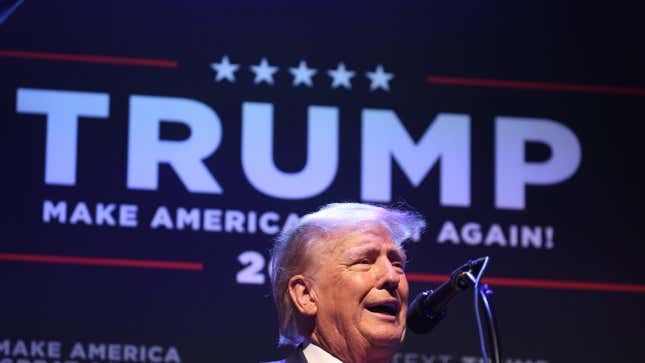 Earlier today, the legal world was rocked by a precedent-setting seismic shift that could raise the bar for future court cases, potentially reshaping the entirety of the world in which we live: Gwyneth Paltrow was officially ruled to have not skied into that old guy that one time. But also, for the first time ever, a former U.S. president (and reality TV host) has been indicted on criminal charges, with Donald Trump formally accused of falsifying business records to allegedly cover up hush-money payments to adult film star Stormy Daniels.
Daymond John really wanted to ask Gwyneth Paltrow about "Shallow Hal"
The mixture of schadenfreude, horror, and vague shame the preceding sentence kicked off in us has also been triggered in people much more famous than us, as Hollywood celebrities have flooded social media to record their reactions to the news. Many are gleeful: Kathy Griffin, who came under heavy criticism for years for that whole "holding up a fake version of Trump's severed head in a photo" thing, tweeted out "It's finally happening," while Michael Moore expressed a similar sentiment with a simple "Finally!" (The "Something." right after underlines that this is probably going to be a bigger deal feelings-wise, for most of us, than legal-wise, ultimately.)
Meanwhile, George Takei expressed his hope that 2023 be a year of "accountability" (while also tossing a "Happy indictment day" to his fans), and Top Chef's Padma Lakshmi posted GIFs of children dancing with joy. Stephen King played the law and order card, pushing back on the idea that Trump is being indicted for anything other than ... quite possibly falsifying business records to cover up an affair. Alyssa Milano was a bit of a downer, reminding folks that it's not great that the American presidency got to this point in the first place, although even she acknowledged the general point about no one being above the law.
Shout-out to The Daily Show for getting out some of the fastest and hardest hits, joke-wise, about the indictment, which was handed down by a Manhattan grand jury earlier today.