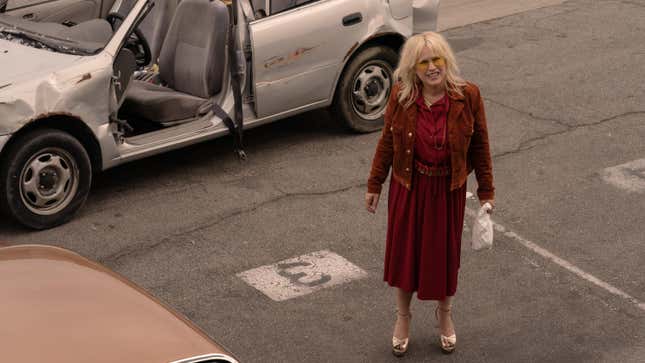 High Desert is a peculiar little gem—rough on the edges but a gem nevertheless. The comedy is a curious pastiche of dark, sardonic, and heartfelt humor delivered through some outlandish plots. Not all of them work, but with patience, they find a memorable way to gel together. The show reunites Severance's Ben Stiller (executive producer) and Patricia Arquette (executive producer and lead star), who continue producing exciting projects for the streaming platform. High Desert, which premieres May 17 on Apple TV+, starts relatively slowly before finding its hook. And luckily for us, that hook is wonderfully weird, allowing Arquette to entirely embody her character.
"National Treasure" star Lisette Olivera on Ed Harris, Catherine Zeta-Jones, and Dreamers
In one of her most bizarre performances, Arquette is a terrific anchor for High Desert as Peggy Newman. Peggy is a lot to handle. She's broke, a petty criminal, and a former addict working as a barmaid/actor in Pioneertown (an Old West set outside of Joshua Tree, California). She's grief-stricken after her beloved mother dies. Her siblings are trying to evict her, her husband is in prison, and she's no longer speaking to her grown son. Peggy is sarcastic, kooky, and disorganized. She's also resourceful, charming, and kindhearted. Arquette deftly juggles these multifaceted traits with effortless hilarity in bringing the role to life. She remains unbeatably fun despite an overstuffed narrative, playing a sort of anti-Harmony Cobel.
High Desert is a fascinating character study of Peggy, who has consistently been underestimated because she's off-kilter. She's bursting with potential that she often misuses. But as we said, her life changes after her mom, Roslyn (Bernadette Peters)—her only true champion—passes away. Unable to cope, she often succumbs to outbursts that swing between comical and sentimental. The actor ensures Peggy stays human and doesn't become a ditzy caricature. And it's a testament to her range, especially after Severance and The Act.
Peggy decides to pursue a new career as a private investigator after getting involved in a coworker's romantic issues (involving a boob job and a sham relationship). No one believes she can make it: She doesn't have a license, money, or a healthy state of mind. Peggy shares a fraught bond with her siblings, Diane (Christine Taylor) and Stewart (Keir O'Donnell), who are both seemingly successful and stable. They don't believe in her stability, even though all three awkwardly keep referring to Roslyn as "Mommy" (as if all the Newmans, not just Peggy, are still stuck in a phase of arrested development).
Still, Peggy finds her way into the office of PI Bruce Harvey (Brad Garrett), whose business is flatlining, and brings him an irresistible, complicated case that could make them rich. High Desert kicks into gear once she haphazardly settles into her profession, becoming a half-hour comedy full of twists, suspense, death, secret identities, and multiple murderous figures. The show is slightly reminiscent of Barry's early seasons (at one point, Peggy writes a play to process her sorrow), but High Desert embraces absurdity over bleakness, leaning on its troubled yet exuberant protagonist. Maybe that's why no one bats an eye when Roslyn's doppelgänger turns up; the ludicrousness is accepted for the joyous Peters and Arquette interactions.
Co-creators Nancy Fichman, Katie Ford, and Jennifer Hoppe-House keep the script acidic and wacky. The writing tethers the show to ridiculous hijinks like attempting to be a human canon ball, nipples being chopped off, and art heists. This partly hinders High Desert from establishing its tone, but the show finds a solid rhythm once its divergent mysteries and supporting characters collide halfway through. Jay Roach expertly directs all eight episodes, with immersive production and set design to boost the Wild West atmosphere, a barren landscape filled with an assortment of eccentric characters.
Peggy's primary case is against "Guru" Bob, a news anchor-turned-scam artist selling fake Picasso and Cézanne paintings. Homeland's straight-faced Rupert Friend is a surprising farcical force as the long-haired, ingratiating Bob, whose healing motto is "Everything is stupid." (Maybe he has a point.) Peggy and Bob's grievances spiral out of control over time as she tries to solve whether he killed his missing wife. The show sporadically loses focus by stretching out this mystery into different tangents—but the comedy remains on-point.
High Desert primarily derives humor from everyone in Peggy's life reacting to her nonsense: her family's exasperation, Bruce's wide-eyed shock, her Pioneertown boss Owen's (Eric Petersen) bewilderment, her longtime friend Carol's (Weruche Opia) loyalty, and her husband Denny's (Matt Dillon) own brand of chaos. Recently released from prison, Denny ropes her into the illegal activities she's hoping to escape. The supporting cast is solid, although Carol and Bruce don't have fully fleshed-out personalities, and are primarily being used instead to prop up Peggy.
The show might not be everyone's cup of tea because it demands fortitude. While the early episodes are enjoyable, High Desert shapes itself into a more insightful version over the remaining tightly paced outings. It's not a meditation on grief exactly, but it presents a resonant depiction of what it's like to lose an adored loved one, promptly lose your mind, and then claw your way back to reality. And Arquette channels all of it beautifully.
---
High Desert premieres May 17 on Apple TV+