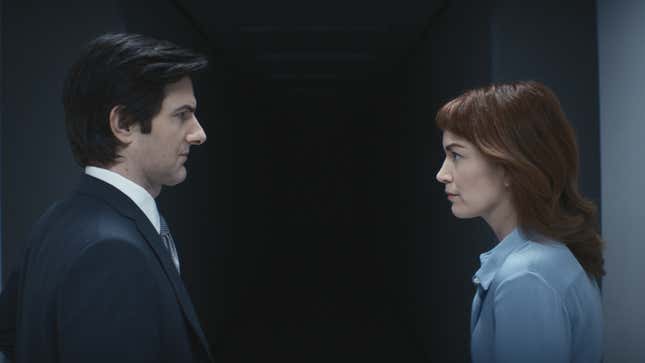 Whatever storminess may have brewed behind the scenes of Severance's second season has been eclipsed by an even bigger tempest: the writer's strike. After reports that animosity between the series co-showrunners and ballooning episode costs were holding up filming, the series ultimately shut down production on Monday as a result of picketing, per Deadline.
Surprise, the Golden Globes have lined up some decent presenters
At the series' set—located at York Studios in New York—Writers Guild Of America (WGA) members picketed alongside the International Alliance of Theatrical Stage Employees (IATSE), while teamsters refused to cross the picket line. This is the second week of the WGA strike, which began promptly on May 2 after the Guild's contract with the Alliance of Motion Picture and Television Producers (AMPTP) expired.
Although Severance's production shutdown has clear roots in the Guild's collective action, whisperings about delays and discord between show-runners plagued the series before the WGA went on strike. At the end of April, a report from Puck's Matthew Belloni asserted that the series had been "plagued for months by pricey problems, including scrapped scripts and the dreaded showrunners who don't speak to each other." At the time, a source close to the production refuted the reports, telling The A.V. Club that Severance's second season remained on schedule and on budget. In addition, the source stated that show-runners Dan Erickson and Mark Friedman—who were recently joined by House Of Cards creator Beau Willimon—were collaborating without issue.
After a report detailing behind-the-scenes turmoil initially surfaced on Puck, Ben Stiller tweeted out a statement on April 28, in response to a story from The Daily Beast: "No one's going to the break room. We're on the same really slow schedule we've always been on. Same target air date we've always had. Love our fans and each other and we all are just working to make the show as good as possible." Stiller has not yet publicly commented on Severance's latest production delays.
Severance is far from the first series to face delays or an outright production stoppage because of the strike; on May 5, production on another Apple TV+ show, the Maya Rudolph-led Loot, halted across the country in Los Angeles, with The Hollywood Reporter stating that "it's unclear when — or even if — it will resume." Other shows that have paused production as a result of the strike include Abbott Elementary, Yellowjackets, Stranger Things, Evil, and Billions.