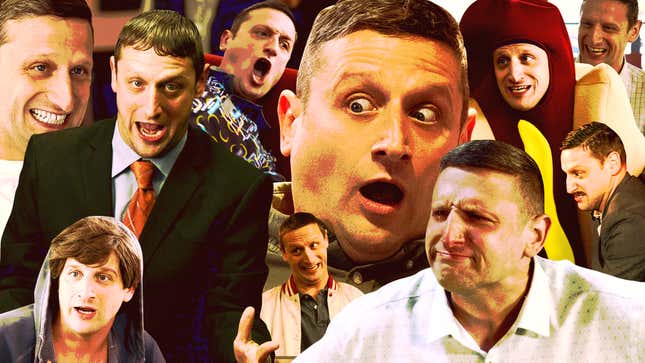 Tim Robinson is a man of many faces. Based solely on his Netflix sketch series I Think You Should Leave, there's almost nothing he won't do to show that skill off, and the former Saturday Night Live actor molds his expressions like no other. Is one of his ITYSL characters viscerally raging out or breaking down? Choking to death in public but won't admit it? Confessing about his "piece of shit" past to hold a baby? Laser-focusing on his love for zip-lining? Robinson's got it handled with performances that are as sublime as they are utterly outrageous. Paired with an excessive range in his dialogue deliveries, it's the reason ITYSL works. It's a bizarre, cringe-inducing, lethal kind of success—but a success nonetheless.
The feud between Howard Stern and the world's smuggest man, Bill Maher, has come to a tentative ceasefire
Co-created by Zach Kanin and Robinson, the buoyant comedy has gifted us with sketches that will last long in pop-culture memory. From coffin flopping and flashy shirts, Biff Wiff's run as a Santa Claus impersonator to Bob Odenkirk lying in a diner, Robinson wrangling to eat a hot dog lunch to later dressing up as a hot dog ("We're all trying to find the guy who did this"), ITYSL leaves a mark. It demands multiple viewings, full-body shudders be damned. It's uncomfortably funny and boasts impressive recurring cameos (Will Forte! Sam Richardson! Patti Harrison!), but Robinson is the obvious constant. That remains true for the third season, which dropped on May 30.
Six new episodes barged onto our screens at precisely the right time. On the heels of Succession, Barry, Ted Lasso, and Yellowjackets ending, the new king arrived ready to reclaim his TV crown. The latest ITYSL season is A-grade, according (rightfully) to The A.V. Club's review. And once again, it relies on Robinson's malleable face to land the dumbest, funniest jokes. What he pulls off is somehow both unbelievable and magical. His usually loud work gets understandably irksome (that's the point!), but it always lands.
For proof, look no further than season three's opener, where he plays a talk show host who "never met a fight he didn't like." Until he loses, that is. Then he slumps back on the chair with a drooping chin, scrolling through his phone like a little boy. Robinson contorts his face like a pro. Then there's episode two's sketch about a virtual reality game gone wrong. Don't be lulled into assuming Robinson's Mike Mitchell is a regular dude playing VR Supermarket Sweep with his son. He comically derails his chance to win by forgetting how to move his body. Since he's seated in a single position for this one, Robinson utilizes his knack of stretching facial muscles: loud-mouthed silent screaming, horrified eyes widening, a seriously scrunched-up face when Ayo Edebiri reminds him to breathe, and a resigned look of acceptance when he says, "I don't think I can walk." It's all bashfully communicated over just three minutes.
Robinson is jarring while emoting his characters' exaggerated feelings, a trademark of ITYSL. He clearly enjoys gradually heightening his looks during the brief act. In season three's fifth outing, he agrees to stop Jason Schwartzman's partygoer from quite literally talking about his kids, accidentally becoming popular in the process. (It's what you ask for if you ride a dog statue.) He keeps doing wild things to impede this stranger's conversations but eventually loses steam. Go back and rewatch each time he animatedly gestures, "I'll think of something," and you'll spot a different wacky anterior twitch.
Most actors transform their bodies for roles, yet Robinson only needs to be a face chameleon. So, yeah, pfft, try doing just that, Christian Bale. Almost the entirety of ITYSL season three's third episode, in fact, is dedicated to this dexterity, starting with a sketch in which Robinson plays a mime who can't help but respond. A mime! You can't convince us this wasn't created with the intention for him to profusely exhibit his talent. In a brilliant later sketch in the same episode, his character orchestrates a drive-thru pay-it-forward for his benefit and passionately screeches his order of 55 burgers, 55 fries, 55 tacos, 55 pies, and so on. (He also creates our new favorite quotable meme: "Look what you did, you rich little fuck.")
Robinson has displayed bits of this talent in the past, primarily on SNL and Comedy Central's two-season gem Detroiters. But ITYSL allows him to embrace absurdist humor unlike ever before. It etches him into a pantheon of comedians like Lucille Ball and Jim Carrey and peers like Eric André and Kate Berlant. He's leaving a remarkable impression on the genre because—and this is the only way to best describe it—he's unafraid to flex his facial features to generate a hearty laugh. So yeah, he must really believe in the philosophy of the phrase, "You gotta give."