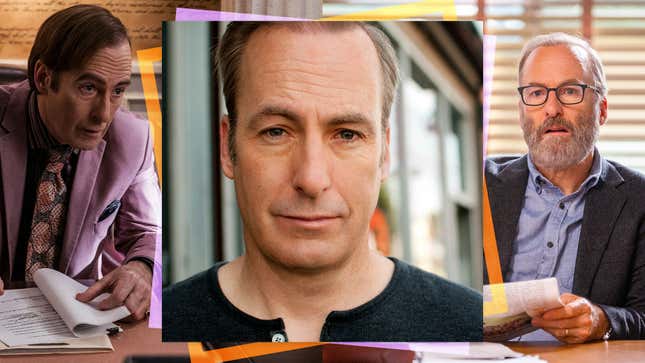 When Bob Odenkirk wrapped Better Call Saul last year, bringing an end to his extended run as Saul Goodman, he did it on a high note. Truly, it was all good, man. Now, after years of playing the skeevy yet mesmerizing lawyer in Better Call Saul and Breaking Bad, the award-winning actor has a new small-screen persona. In AMC's Lucky Hank, Odenkirk stars as Hank Devereaux, a grouchy English professor in the throes of an existential crisis. The comedy-drama, based on a Richard Russo novel, finds Odenkirk playing alongside co-stars Mireille Enos, Diedrich Bader, Suzanne Cryer, Cedric Yarborough, and Olivia Scott Welch.
COVID cinema: How The Courier's director dealt with his film's changing release dates
Odenkirk has been an A.V. Club favorite for decades, and the outpouring of love after his 2021 health scare reinforced the mark he's left in the industry. He excels at being uniquely funny (go back to Mr. Show for proof), and Lucky Hank allows Odenkirk to tap his innate comedic skills while expanding the dramatic chops he cultivated over six seasons of Saul.
The A.V. Club spoke to Odenkirk about navigating genres for Lucky Hank (which premieres March 19), the—serious voice—craft of acting, his forthcoming project with David Cross, and whether he appears in the new season of Netflix's I Think You Should Leave With Tim Robinson.
---
The A.V. Club: What was it about Lucky Hank that made you want to jump right into it after all those years as Saul Goodman on Breaking Bad and Better Call Saul?

G/O Media may get a commission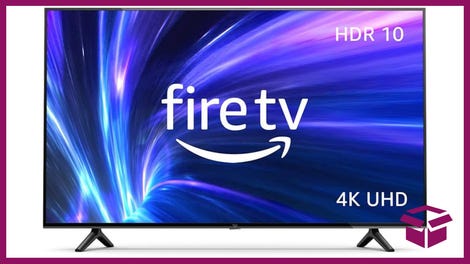 42% Off
Amazon Fire TV 50" 4K Smart TV
Bob Odenkirk: I thought I needed to do this because I liked the writing. I really liked how the character was funny but aware of it, as opposed to Saul Goodman, who was also funny, but you often laughed at him more than with him. I liked that Hank loves his wife, and she loves him; he loves his daughter, and she's annoyed by him but presumably loves him. That was all very, very different from Saul. Saul was very much a loner in my book. He was alone in this world and was going to stay that way. To play somebody who was connected with and understood people was refreshing. The stakes are, of course, a great deal lower than they were on a show like Saul.
I also related to the world of Lucky Hank a lot. I have friends in academia and know it's a hot box of status and people trying to feel vindicated and validated. I thought it was a smart place to put people and get characters riled up. I also enjoyed the book. The tone of it is a hard thing to achieve. We kept talking about Alexander Payne movies like Sideways. You can almost see in Lucky Hank, it's a 50-50 mix of comedy and drama. Usually, the comedy is broader and stronger, and then the drama comes in at the tail end, or the drama is heavy with moments of humor. But to try and mix both, as it goes in Lucky Hank, it's equally split. That's hard to do, but I like doing tough things. I got into the [business] to do different things and to take risks. It's one of the joys of being in this business.
AVC: This segues into my next question. Within five minutes of the series premiere, the understated comedy is established when Hank has an outburst in front of his students. Your background, and showrunner Paul Lieberstein's experience with The Office, are louder forms of humor. Was it difficult to contain that for Lucky Hank?
BO: Yeah, what you're pointing to is challenging for me. Sometimes you just want to cut loose and be really silly. Sometimes I would do that. I would say, "Can I do a take like that?" And we would do it to get it out of my system, and I would learn from that. But yes, I believe it's harder for me than for Paul. I think it's okay to push the envelope a little bit and take it to a sillier place, but here it was mostly about riding the line in between. It's what I do best in comedy. I can be silly but I think I'm most fun when I'm mixing a grounded, dramatic character who is being a little silly. That's when I'm the funniest, you know?
AVC: I attended the Television Critics Association panel for Lucky Hank in January this year. One of the things you said was that when you got Breaking Bad, you had to learn how to "act" opposite Bryan Cranston because of your comedy background. How has that changed over the years? Do you have a trusted approach with Lucky Hank now?
BO: I absolutely do. It's because I went to a school called Better Call Saul University. Without a doubt, if I wasn't an actor when I started, I had to become one because of how much I had to do and [the character's] dynamic range. I gained a great deal of confidence and skill and what you're saying, which is a craft. I'm not rudderless anymore, just hoping and wishing and trying random things. I've learned how to break down a script and character. I was able to approach Lucky Hank with more confidence.
With any new character or show, there are a lot of variables and things coming together for the first time. In this case, it's a big cast, crew, and various directors. You'll see a variety of directing styles because we got Nicole Holofcener, Jude Weng, and we start with Peter Farrelly. He's all about humanity and humor. He wanted every character to be as humanly funny as they could be. Those are the things we work on together every day to find an equilibrium.
AVC: Lucky Hank seems to be about Hank and his wife's midlife existential crises, among other things. Do you feel like audiences will connect to that aspect of the show?
BO: There are two reasons people might connect with the show. When this comedy and drama balance we discussed is done well, that's fun to watch. I can't help but reference Alexander Payne's movies; he's the master of them. When it's done well, it's fun and watchable. The second thing is what you said. We all are either in it or know it's coming—those moments in life where you know you have to reevaluate who you are and the life you're living. You might realize that if you don't change, the world around you is going to change, so you better start to make some different choices. That's where Hank is at. He has to grow. I think you're right. People can relate to those junctures in life where you're leaving one chapter and starting a new one, whether you like it or not.
AVC: What was it like to collaborate with Mireille Enos to establish Hank and Lily's relationship and how they're coming to terms with the sacrifices they've made in their marriage?
BO: The best, deepest, and most truthful thing about season one is the relationship between Hank and Lily. It's a long-term marriage that still has life in it, yet the two people know there's a whole chapter ahead of them and they could make a different choice. Have you ever seen a long-term couple split up and thought, "Wow, I never saw that coming?" We forget people are people; they're still alive and have a life ahead of them. You take for granted some relationships, but they're still two individuals who can make different choices. That's the case with Hank and Lily. They know they have some decisions to make as individuals and as a couple.
And boy, Mireille and I are an amazing team. I know me and Rhea Seehorn were fantastic together in Saul; we had the energy and the vibe. I have the same thing with Mireille in the way we are able to present we're two people who love each other, tolerate each other, and in the end, really know they're a great team. It's wonderful to get to play that.
AVC: I can't help but notice you are dressed in Lucky Hank in a way that screams English professor with the suits and the beard. What was it like to put together Hank's look and how much of a say did you have in it?
BO: I did a lot, actually. I realize however much Hank expresses disdain for the college and the nuttiness of academia—he belittles everyone around him and the efforts of his fellow professors—he's really invested in being a respected chair of the department. He wants you to see him across the street and go, "That guy is a college professor." If there's anything Lucky Hank is about in a big-picture way, it's about a guy who has crafted a persona for himself as a form of protection against his demons and he's quite happy with it. For various reasons, you'll start to see episode two onward, he's going to have to let go of that persona and refashion it or it's going to be stolen from him and he'll be broken.
But yes, that was my instinct. However much Hank says, "Academia is a joke, this is ridiculous, this college is stupid," he needs to feel important and be seen as an intellectual. He dresses like that with some degree of slouchiness that's also baked in. He picks the suit jacket that looks like a professor, lets it get old, and then doesn't replace it. It's a study in "I don't care, but I really do." The beard was just, I mean, come on. Let's call it a thinking man's beard.
AVC: Lucky Hank was announced as a limited series, but do you know if you'd want to make more seasons?
BO: I do not know. I think we're set up to do another one as far as establishing an intriguing world and characters who would be fun to follow. Let's let the audience have their say.
AVC: In your book, Comedy Comedy Comedy Drama, you wrote extensively about your time in sketch comedy and with Saturday Night Live when you were starting out. Is that something you're itching to do again, especially now that you're possibly working with David Cross again?  
BO: Thank you for asking me that and for reading my memoir. Of course, you're right. When I'm trying to mix things up with the latitude I have, which itself is unbelievable, I love the idea of doing something a little more fun. I don't quite know what that is yet. The project I have with David is in a holding pattern right now, but we are wanting to make something. In fact, I'm going to see him do a performance at a charity event in New York City. We're trying to make something happen, and I think it will happen.
AVC: I'm a big fan of I Think You Should Leave With Tim Robinson, especially your season two sketch, "Diner Wink." What was your experience with that? Are you returning for season three?
BO: I'm not in the next season but that's only because I was busy. Tim did invite me to be a part of it, and I wanted to do it, but I wasn't available because I was filming in Canada. I love Tim so much. I love his comedy. Thank you for liking "Diner Wink." That writing was him and his partner, and I did some improv in my performance. I had the greatest time doing it. I initially thought he wanted me to play the dad. When I got the script, I said to my wife, "I'll do it." She asked me questions about how my character would look and I said, "No, Tim's playing that." And she had to point out that Tim is the dad in that sketch, not me. I thought he'd be so funny but I'm glad I got to do it.
AVC: Congrats on your well-deserved Critics Choice win this year. I'm wondering what these wins and nominations signify in your career, especially over the last few years. How do you look at your career in retrospect in a post-Saul phase?
BO: Here's the best part about winning that Critics Choice award. I got to stand up on stage to thank the cast and crew. That's what I wanted to do, to thank all those people who made you look good because of their hard work. Not getting to do that ... [laughs] by being nominated so much but never getting that opportunity ... you know, they're your friends and partners at work. You rarely get to tell them a thank you on camera. It meant so much to get that one shot. The nominations are wonderful when there are like 499 scripted shows or something on TV. To get picked itself is a win in the world we live in right now with the landscape. So I'm glad I got that opportunity. Now I can have a real heart attack.
AVC: Oh, no, I'm not emotionally equipped to joke about that.
BO: [Laughs]. Well, I know I did have a real heart attack. What I mean is I can exhale.
---
Correction: An earlier version of this interview incorrectly named Richard Russo as Robert.