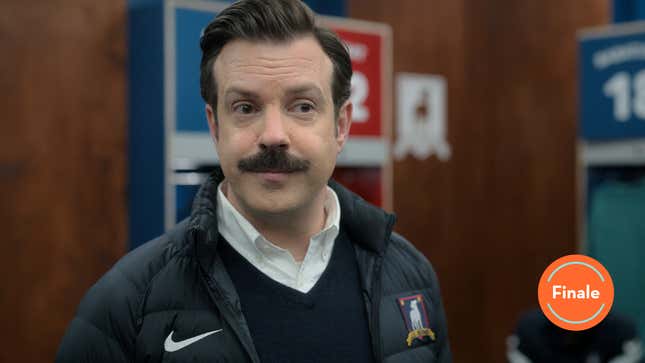 So long, farewell, Auf Wiedersehen, good night!
I was right to have been tracking all the musical references these past few episodes given that, for its season finale, Ted Lasso urged us to ask how you solve a problem like, well, Ted Lasso. Not that our folksy American football-turned-soccer coach was a problem, per se (he was less so than that famed Julie Andrews character for sure). But as this third (final?) season has worn on, it's become clear that this wasn't (couldn't?) be a sustainable premise. Ted has a family back home. And a kid who was struggling with a father so far away. Moreover, given that this comedy ballooned itself into becoming a pat if heartwarming tale about self-actualization via sport metaphors, it makes sense that we'd arrive at a logical end point for all involved once they learn the main lesson Ted has instilled in us all through out these past three seasons: "Be a goldfish."
"Ted Lasso" gets into the (video) game
That the season ended with such a simple message speaks to the unassuming if nevertheless powerful message this Emmy winning comedy staked for itself: wanting to be better is enough. And it's a choice you have to make over and over again. It's a simple message that exemplifies the way Ted approached life and sport alike and which became a kind of mantra for all involved in AFC Richmond, distilled as it was by Coach Beard during a Diamond Dogs meeting that finally found Roy Fucking Kent admitting he needed help.
True to any and all sports narratives, Ted Lasso grafted its ending onto a pivotal final match: Could AFC Richmond end up on top after a miraculous post-Zava season and win it all? The question, as ever, was mostly immaterial. (Though I will note that, just like last week's episode, it is always fun to see the show really embrace the soccer part of its soccer comedy label). And while a lot was riding on this final match, it wasn't really all to do with whether Rebecca would finally beat Rupert at his own game (as the pilot all that time ago hinted). Nor, as it happens, and as Trent has written in his book, was it whether the Lasso Way would prove itself worthy of such a study.
No, this match was important for all involved because it would be Ted's final one with Richmond. This seemed to be the ending we all knew we were getting for months now: Ted has been little more than a structuring device for the show, with his same-named series valuing endless subplots around its peripheral characters more than wrestling (up until last week's episode) with why Ted had so sidelined himself. If anything it proved there was, as he tells Trent once he gives him notes on that book of his, that this was never about Ted. It was about a team that learned how to work together, and grew into a well oiled machine that, yes—spoiler alert—led them to an eventual victory. The win, courtesy of great teamwork all around, was as satisfying an ending as one could've asked for and captured just how exciting soccer can be. (No, it's not always about 90 minutes of excitement ending in a 0-0 result, thank you very much!)
The game may have been the anchor but this episode worked, perhaps a bit too hard, to tie up many of the show's loose ends as tidily as possible. And so, even as the series finally (yet again) pitted Jamie and Roy in their wooing of Keeley, the two frenemies turned besties had to deal with learning that it wasn't up to them as to who Keeley would want to date. (I still stand by my desire for all three of them to date.) No amount of fighting or grandstanding (or, worse yet, deigning to ask her as a kind of last resort) was going to settle said affair. I appreciated how the show turned their love triangle on its head, remembering how strong-willed our Keeley can be. She may choose one or the other, but it's not for us to know.
Elsewhere, Rebecca found peace (at last!) having seen Rupert doing a good job of doing himself in. (Nothing quite like a divorce and a lawsuit one-two punch to turn him into a tabloid punchline.) It also looks like Keeley's relaunched PR firm is off to a good start, giving us one final chance to revel in Barbara's amazing off-kilter deadpan zingers. (I agree that rugby is preferable to soccer since that sport involved, uh, actual men throwing men around like children. And blood, yeah; though McAdoo gave us some of that here as well, with the second "ball hits face" joke of the season.)
Which brings us to that final scene on the plane (after Coach Beard pulls a stunt to stay in the U.K. to stay with Jane): Ted is now headed back home where his kid is eagerly awaiting him. He closes his eyes and then, in classic finale montage, we see snippets of what everyone at AFC Richmond is or will be doing: Rebecca runs into her boat paramour (with daughter in tow!); Coach Beard and Jane marry in front of a green screen—no, I'm sorry, I mean Stonehenge; Keeley, Roy and Jamie seem in good spirits at an outdoor event at Leslie's … (we even see Keeley and Rebecca's plan to open a Women's team). It seems everyone's doing great and moving on and thriving. But then, Ted wakes up and arrives home.
Which begs the question: Was that all in Ted's mind or did we get flashes of what's to come? The answer, like the question, feels dull to me. Like a half-made promise the show doesn't need to keep.
Instead, I'd rather stay with the final image of the show: Ted staring at us in close-up, content with coaching his kid with the same enthusiasm and equanimity he brought to AFC Richmond: Be a goldfish. I may have struggled with this final season (a lot) but there remains something quite endearing about this simple dictum being leveraged within a sports comedy about men struggling to be better versions of themselves for themselves but also for each other. That's why it was never the Ted Lasso Way: It was always, as Trent admits in changing his title, the AFC Richmond Way. And, Sound Of Music flash mobs aside, we'd all do good every once in a while to embrace such efforts to find in self-improvement a kind of solace, a kind of safe haven. From the world, yes. But also ourselves.
So long, Ted.
Stray observations
Were you fooled by that first scene which flirted with the one Ted Lasso ship the show refused to gift us over and over again? I'll admit I was kind of tickled by the idea of Rebecca and Ted finally getting together but was also quite content to have it be a bait-and-switch (cheeky writers!).
How many of the many callbacks to the show's many one liners and previous subplots did you catch? My favorite of the bunch (other than seeing a cowering dog hoping he wouldn't get hit by a ball) was seeing Dr Sharon(!) giddily watching the game and then, of course, closing the door on her and Roy's very first season, a nod to Roy's commitment to being and doing better.
Did you cringe through that Sound Of Music send up/send off? I sure did, even as the series has given me plenty of opportunities to get used to that kind of earnest flash-mob sensibility. (Better than that singalong at the bus, no? Maybe.)
Two billion dollars?! (Sorry, I'm still not over that little detail.)
Between this and Succession, Harriet Walker is having a great week playing emotionally aloof but endlessly entertaining British mums who clearly have always put themselves first. My one LOL moment came courtesy of her delivery of a line as simple as "No it doesn't.")
Drink Sleep Fuck >> Eat Pray Love
Of course Zava would send in one giant avocado.
This was the entire payoff of Nate's storyline? Oof. Talk about anticlimactic. Sure, his heart to heart with Ted was a welcome wrap-up for them both, but he's … uh, back where he was after being a successful coach at a rival club? Talk about a downgrade
Did I find the use of Cat Stevens' "Father And Son" a tad on the nose for that final montage? Maybe. But Ted Lasso never did shy away from a painfully obvious needle drop so this is me nitpicking.
The BELIEVE poster, like the goldfish metaphor, was central to the show. Understandable that it'd come back to play a key role in getting the team to come together (literally) to build it back out from the scraps they'd all kept.