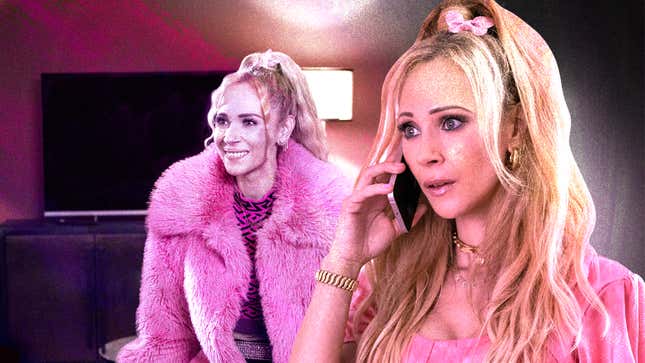 Can the real Keeley Jones please stand up? Several times during Ted Lasso's third season, I've wondered if Juno Temple's Keeley needs to blink twice for help. Because who the hell is the bumbling version we witness this time around? Over 11 episodes—pending the season (or series?) finale on May 30, but can one more mere outing undo the damage?—Ted Lasso has relinquished almost everything it built for her in favor of a character who now barely resembles the Keeley we know and love. And it's a damn shame.
"Ted Lasso" gets into the (video) game
It's not like her bumpy journey is the only disservice of a lengthy season three. Each uneven, self-indulgent episode (several crossing the hourlong mark) has struggled with other characters. A drawn-out redemption arc for Nate (Nick Mohammed) now feels rushed as the season closes. An early emphasis on Rebecca's (Hannah Waddingham) desire for a family has petered out. Regulars like Higgins (Jeremy Swift) and Dr. Sharon (Sarah Niles) went to the back burner—the latter hasn't made a single appearance after the premiere—to make way for newcomers like Zava (Maximilian Osinski) and Shandy (Ambreen Razia), who barely made a dent in the show's legacy. Ted himself doesn't feel like the central focus, possibly to make way for Sudeikis' exit.
So, yes, it's safe to say Ted Lasso is all over the place, but its failure toward Keeley hits hardest. It's because of how she subverted expectations over the first two seasons. She was introduced as a seemingly ditzy fashion model dating a football superstar. A cliché of the highest order, right? That's why it was remarkable when the show expertly laid its cards for her on the table as it went on. Keeley revealed herself as ambitious and winsome. She helps U.K. newcomer Ted (Jason Sudeikis) settle in, stands up to her then-douchebag boyfriend Jamie (Phil Dunster), starts dating Roy (Brett Goldstein) and attempts to break down his walls (her interactions with Phoebe are priceless), confronts Rebecca about the paparazzi, becoming her best friend in the process, and launches her PR career because she has a real knack for it.
Missed opportunities and disappointing arcs
Keeley exudes natural affability, talent, and charm, partly because Temple plays her with the perfect balance of sensitivity and whimsy, with fanciful outfits to match her personality. While those qualities remained on the surface as she faced heartbreak and other losses, Ted Lasso couldn't shape Keeley's trajectories into a cohesive, sensible arc. Despite promising beginnings, the show glossed over potential personal or professional development. The season three premiere established that Keeley is now running KJPR, complete with her own office and staff. Great, perhaps it's an opportunity for her to learn from fellow "girl boss" Rebecca about being a mentor, especially once she brings messy old friend Shandy aboard. That arc fizzled out in a few outings, much like Zava's unhelpful time at Richmond.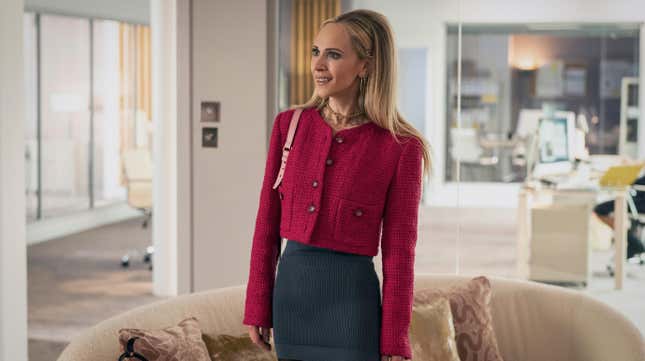 Keeley learned how to be a leader and fire someone. But what then? She rarely interacts with employees except for Barbara (Stath Lets Flats' Katy Wix) or does actual work. Who are KJPR's clients? We knew more about Keeley's skills when she worked partly with the football club, creating brand partnerships for the players or promoting the dating app Bantr. It's a disservice to her that her work life capsized into a fledgling story about a sudden romance with the woman who invested in her business. Speaking of: Keeley's relationship with Roy might've randomly ended, but by episode four, sparks fly between her and wealthy venture capitalist Jack, played by For All Mankind's Jodi Balfour.

It's an exciting opportunity for Ted Lasso to explore Keeley's bisexuality. Instead, she turns unrecognizably scatterbrained (unsure how to turn the blinds on or off while making out with Jack in the office). Her responses to Jack can appear as early stage nerves, but Ted Lasso continues to let Keeley flail around instead of using this plotline for growth. Most of their romantic development happens off-screen, like Jack whisking Keeley away in "Sunflowers," taking her out of a super-crammed episode. We don't get to see their romantic build-up; all we get is Ted Lasso dealing with an eyebrow-raising "love bomb" storyline, Keeley's nude photos leaking (with Jack and Roy's terrible reactions), followed by a convenient breakup. It's hard to care about her relationship with Jack starting or ending because we don't see most of it.
Ted Lasso season three's strangest crime is to confusingly leaving crucial updates off-screen, like Nate quitting West Ham, the Richmond players voting to bring him back, Roy and Keeley hooking up after he gives her a letter, Ted's therapy sessions, and whatever went down with Rebecca and the man she met in Amsterdam. Who knows if we'll even see Ted tell Rebecca he's leaving London, as teased by the ending of episode 11, "Mom City."
How Keeley was reduced to a prop
By the end of this hour, at least Ted Lasso hints at a proper Roy and Keeley reunion as they settle into a respectively comfortable friendship with Jamie (a stark contrast to when the show began). While Jamie's consistently terrific arc in season three stands out, Keeley feels like a prop in "Mom City." She bolsters Jamie and Roy's dynamic here, but we learn nothing about how she feels about getting back together with Roy. He brings it up to her, but Jamie interrupts them before she can say anything, so TL will probably save this development for behind the camera as well, huh?
If you squint hard enough, you can see Ted Lasso striving to comment on Keeley's abandonment issues through her love life. Roy and Jack leave her during life-altering moments, like starting a major job and facing public humiliation. But the overlong, overwrought, displaced storylines throughout season three means Ted Lasso couldn't focus on saying anything insightful about this subject. There wasn't even enough Keeley and Rebecca to make up for it because, much like Nate, she was sequestered on her own.
All this left Temple with surprisingly weak material to work with. She persevered and her performance lifts the storylines; she remains enjoyable and a ray of sunshine even as Keeley is heart-bent (not heartbroken). Temple's Keeley might've saved the show, but Ted Lasso completely failed her this time around.