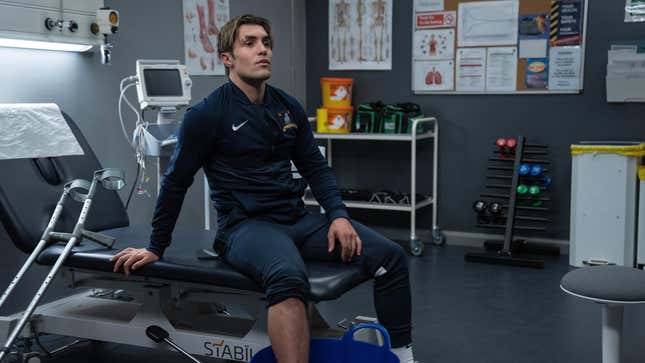 Like all great shows about a folksy mustachioed soccer coach out of water, Ted Lasso kicked its final ball last night. Or so we think. As many critics and viewers may have noticed, Ted Lasso didn't exactly end. After changing time slots at the last second, Apple TV+ aired the Lasso season three finale last night in which Ted finally heads back across the pond to wow his fellow patriots with observations like "Just call me Beyoncé because this is a real Homecoming" or whatever. Coach Lasso should have remembered to leave a plan for his players, though.

"Ted Lasso" gets into the (video) game
With the uncertainty over the show's future and potential spin-offs permeating throughout the nice-show-a-sphere, Ted Lasso's Jaime Tartt (Phil Dunster) announced that he doesn't know what's happening with his job. On Instagram, Dunster shared candid photos of the production, the boys yucking it up on the field for presumably the last time. Unfortunately, the show didn't say definitively, ending with Ted's sleepy dream of Rebecca selling the team to the fans. Dunster doesn't know either, as his caption indicates.
"Hey Siri," Dunster said as he fulfilled Apple's unspoken company mandate of employees pretending to use Siri. "Play 'Time To Say Goodbye' (but also maybe not yet we simple [sic] don't know) by Andrea Botticelli."
That "but also maybe not yet we simple don't know" indicates that the cast of Ted Lasso doesn't know if they still have jobs. That's been the case for the last few months. In March, Jason Sudeikis told Deadline that it was flattering to hear that people wanted more—which is a little annoying because he surely knows how popular his hit series is. However, the actual Ted Lasso part of Ted Lasso sounds done.
"This is the end of this story that we wanted to tell, that we were hoping to tell, that we loved to tell," he said. "The fact that folks will want more and are curious beyond more than what they don't even know yet—that being Season 3—it's flattering. Maybe by May 31, once all 12 episodes of the season [have been released], they're like, 'Man, you know what, we get it, we're fine. We don't need anymore, we got it.' But until that time comes, I will appreciate the curiosity beyond what we've come up with so far."
However, ever the trickster, Sudekis also hinted at possible spin-offs down the road. "Yeah, I think that we've set the table for all sorts of folks," he said. "Again, I can't help but take the question as flattery for what all of us that were working on the show has tried to do. It's really kind of folks to even consider that because you never know what's gonna happen when you make things. The fact that people want more, even if it's a different avenue is lovely."
So will Ted Lasso return? We don't know, but it's so nice of everyone to ask.