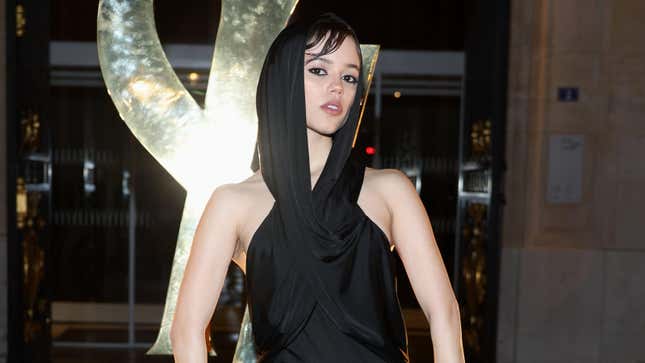 It ain't easy being Wednesday, apparently. Jenna Ortega's star is steadily on the rise, but she's certainly put in the work for it. Maybe a bit more work than one would reasonably expect for a fun young adult Netflix series (even if it is helmed by Tim Burton), but hard work nonetheless, as she explained at a recent Q&A (per Variety).
Max Greenfield on "The Neighborhood", his new book, and a "Bob's Burgers" spinoff
"It was: show up to set two hours early, do that 12-14 hour day, then go home and then get on a Zoom and have whatever lesson that I had. Or show up to my apartment, my cello teacher was already waiting for me," the actor shared. "It was just constantly going, and if you could on a weekend, if we weren't shooting the sixth day that week, it was 'All right, well then, we'll get your lessons in on that day.'"
The eight-episode series reportedly took eight months to shoot, and Ortega was in basically every scene. She described herself as "adamant about being as well prepared as possible," leading her to learn the cello in addition to taking fencing lessons—all this despite the fact that doubles were available to film some of the more technically difficult bits. "I did not get any sleep. I pulled my hair out," she recalled. "There's so many FaceTime calls that my dad answered of me hysterically crying."
Is there such a thing as working too hard? All of this is on top of the fact that she filmed the series' iconic dance number while sick with COVID-19. (A dance number she choreographed herself, by the way, though she had no prior experience doing so.) The pressure the teen star put on herself to perform probably explains why she still showed up to set despite feeling like she'd "been hit by a car." (Ortega didn't test positive until after filming began.)
The blood, sweat, and tears did pay off. Or if not precisely paid off (because what does that even mean in the streaming economy?), those efforts were rewarded with multiple acting nominations and big viewership numbers. According to a new report, Wednesday had "the most-watched premiere of 2022 in the 40-day viewership window," beating out House Of The Dragon (per Deadline). The series' success paved the way for an easy second-season renewal, but hopefully, Ortega gets to take it a little easier this time around.