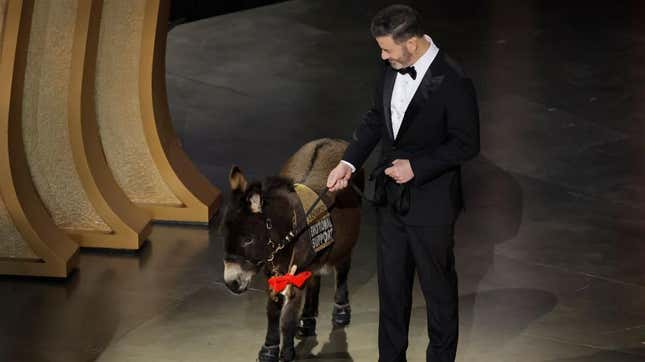 UPDATE [10:43 P.M.]: As if we needed further evidence that the Oscars are some twisted form of cultural punishment, The A.V. Club has learned the donkey joined by Jimmy Kimmel is, in fact, not the real Jenny, but rather "some random donkey," per Vulture. It serves us right for expecting a night mule appreciation after EO got trounced by All Quiet On The Western Front. Still, despite being another rando, the donkey at the Oscars seems like a very nice donkey and deserves our respect.
Original article: It's the year of the donkey, especially if you hate donkeys. Between The Banshees Of Inishirin and EO, the horrific relationship between humans and those little workhorses was on full display in movie theaters, with disturbing ends for both, despite the audience's determination to protect this donkey at all costs. (The audience failed.) Thankfully, unlike the characters of Jenny and EO, the donkey who played Jenny had a happy ending (as did the six that played EO).

Appearing live on stage at this year's Academy Awards, Jenny the donkey escorted host Jimmy Kimmel to the stage. At home, audiences marveled at the clear connection that Oscar-nominee Colin Ferrell had with the little creature, as the actor pointed to and blew kisses to his screen partner. Needless to say, it was a rare, overwhelmingly nice, and pleasant moment at the typically chaotic and recently violent Academy Awards ceremony. They didn't even need to call in the crisis team for this one.

"Not only is Jenny an actor, she's a certified emotional support donkey," said Kimmel. If you are feeling upset or anxious or just love mules, feel free to give her a hug."

Kimmel informed the crowd that Jenny was, in fact, an emotional support animal, and any attendee that needed a hug could rely on Jenny. However, he also noted that the designation was just so they could get the tiny donkey on the plane. This was also before he said he had to put Jenny back on a Spirit flight. It's such a shame how we treat stars these days.

Previously, Colin Farrell gave a shoutout to Jenny when he won a Golden Globe for Banshees, claiming his co-star was taking an "early retirement." He continued, "She said, 'Fuck the film business, I'm one and done,' so she's gone." We're just relieved "early retirement" didn't mean Jenny was going the way of literally every donkey in a movie this year. One hopes, in the future, we'll have a movie about donkeys that isn't a heartbreaking experience. Then again, every story is a tragedy if you wait long enough.

For now, we'll just take solace in Jenny, being cute on the Oscar stage.