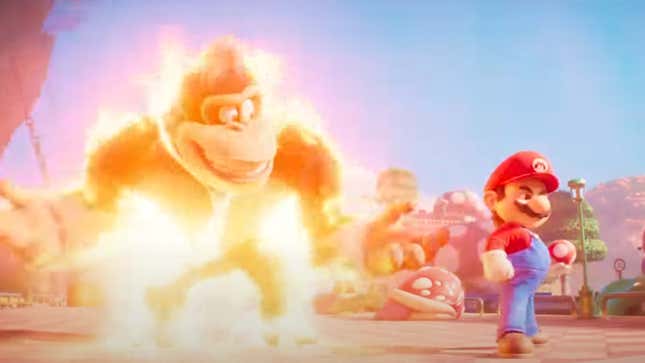 If there's one thing worse than a giant ape with a five-bunch-a-day banana addiction and a penchant for kidnapping, it's got to be one who also has access to firearms. Or at least fiery arms, as proven earlier today, when Nintendo and Illumination unleashed the final trailer for the upcoming Super Mario Bros. Movie, which features a whole bunch of Charlie Day as Luigi, a whole bunch of Mario Kart, and, yes, a little bit of Seth Rogen's Donkey Kong running around, terrorizing the Mushroom Kingdom with one of the franchise's iconic fire flowers.
The trailer was released as part of one of Nintendo's regular Nintendo Direct presentations, this one focused on the film, which opens in theaters on April 5. (We'll spare you the bits of the various voice actors, including Day, Rogen, Keegan-Michael Key, and it's-a-him, Chris Pratt, doing schtick in the pre-trailer bits.) The actual trailer once again looks surprisingly cool, including more sequences that show off an effort to import the side-scrolling look of a Mario game into the movie's action, with Mario and Donkey Kong, each all hopped-up on power-up, running wild through some of the series' worlds. (Also, there's a very creepy Luma who's locked up with Luigi, proving that both Super Mario Galaxy and PTSD are apparently canon in this universe.)
Mortal Kombat's director tells us how much gameplay went into making the movie
The whole thing ends with a trip to Mario Kart's iconic Rainbow Road, suggesting that directors Aaron Horvath and Michael Jelenic are pulling from all over the Mario canon in order to fill out their movie with setpieces and Easter eggs. And, again: We're continually surprised to see that this thing actually looks cool; we're not entirely sold on the humor, but as a visual spectacle, the film is shaping up to be something pretty amazing.