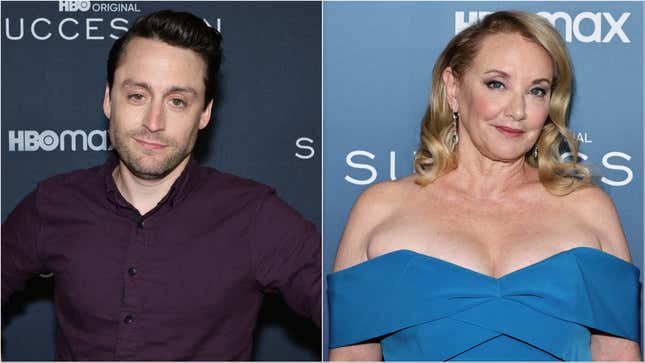 Succession's hottest and most sexually twisted couple plans on staying in contact even as the show wraps up with its fourth season. As many cast members now look beyond the acclaimed HBO series, Kieran Culkin says while keeping in consistent contact with everyone will not be possible, J. Smith Cameron is high on the call list.
"I'm not really going to keep up a proper relationship with anybody just because of logistics," Culkin says, due to the cast's permanent residencies all over the world. "It's a big, big loss."
The two's closeness on set led to the show's writers concocting a romance between Logan Roy's right hand, Gerri, and his youngest son, Romulus. While the two never reached the status of OTP, they gave us a compelling couple to root for in the series devoid of any true romance. Smith-Cameron and Culkin have both played into their chemistry over the years on red carpets and award stages.
"We were kind of always flirting on set," Smith-Cameron says of her co-star in an interview with Esquire. "It was never for one second a real flirtation. It was that set-crush kind of thing."
Smith-Cameron likely is not the only co-star Culkin says he'll miss as Succession ends, with his on-screen sister Sarah Snook sharing an interaction that's "indicative of the very sibling relationship that Kieran and I have offscreen as well."
To Esquire, Culkin shares a conversation he had with Snook spurred by Nicholas Braun's realization that the cast could find themselves never sharing a scene again.
"Hey, Kieran, you'll love this," Snook recalls saying at the time. "When we finish this show, you and I will never work together again."
In response, Culkin says, "I went, 'Why the fuck would you say that? Fuck, I want to cry."
"It hit him much more than I thought it would," Snook admits.
While Culkin has little to say about the Roys played by Brian Cox and Jeremy Strong, he does divulge in another weepy on-set moment between him and Alan Ruck—who plays the eldest, Connor—during which a riff about boners turned sentimental.
"Kieran said, 'I'm really going to miss you,' " Ruck tells me. "The feeling is mutual. I never had a little brother, and if I could have a little brother, I'd want him to be exactly like Kieran."
Succession is currently airing on HBO and HBO Max on Sundays.