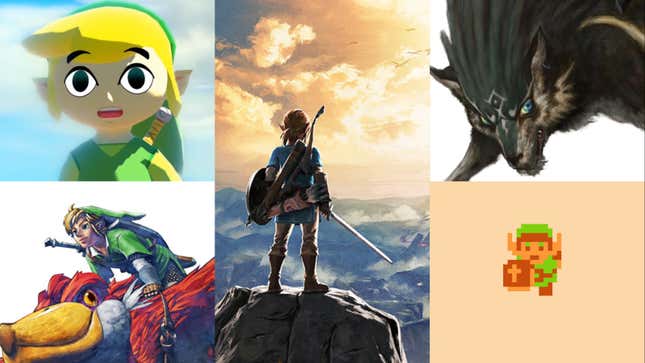 Although the Zelda series is one of the more diverse entries in the Nintendo canon—with games running the gamut from more structured adventures like Link's Awakening on the Game Boy, all the way up through open-world adventures like 2017's massive hit Breath Of The Wild—it's employed a few key recurring elements through its almost 40-year run. Boot up a Zelda game—including Breath Of The Wild sequel Tears Of The Kingdom, out this week—and you can expect certain comforting familiarities. There's going to be a very strong triangle. There's going to be a woman named Zelda. A pig-man will, at some point, be a problem. And you're probably—always, in fact—going to be playing as a kid named Link.

But not all Links are created equal. Because, while Nintendo tries to keep its green-clad heroes as neutral as possible—the better, so the logic goes, to make them easy for any and all players to identify with—it's impossible for nearly a dozen different Links from an even larger number of Zelda games not to find ways to stand out from each other. Some Links are braver; some Links are sadder; some Links screw up the natural course of history so badly that people are still having arguments about the Zelda chronology 20 years later.
And those differences are part of the charm of Zelda, a series that has sometimes struggled with its macro-level storytelling, even as its base gameplay has remained profoundly solid. And so we present to you: A ranking of Links—to the past, across worlds, what have you. For each entry, we've listed which games the fairy kid in question has come from and, just for kicks, how badly they mangled the timeline on their way across their adventures.
Hey, listen! Let's do this.