Clayton Purdom: Like everyone else, I've spent the past two weeks in thrall to Nintendo's new Zelda. Breath Of The Wild feels like a cultural moment, one of those rare occasions when a new artwork is immediately and almost unanimously agreed upon as an all-time great. I'm thinking of albums like My Beautiful Dark Twisted Fantasy and movies like There Will Be Blood—releases that feel like seismic events.
Your reviews of the Breath Of The Wild have done a great job exploring what makes the game itself so compelling and graceful, so I think we can leave whether or not it's great aside, but now that we're a couple weeks away from the "holy shit it's good" moment, I wanted to talk about how good the game is. Several Zelda games are regularly categorized as some of the "greatest of all time," in particular the 1986 original, A Link To The Past, and Ocarina Of Time. And of course, there are adherents to dark-horse picks like Majora's Mask, Wind Waker, The Adventure Of Link, and Link's Awakening. I even used to claim that my favorite was Twilight Princess, which I realize with the hindsight of age is an untenable position. My point is: This is the most revered series in all of video games, and so placing Breath Of The Wild within that lineage feels like a worthwhile exercise.
I'm at least 20 hours in and have spent a disproportionate amount of that time doing nothing. I don't even mean harvesting ingredients and crafting potions and clambering over edges, although there has been a lot of that. I mean literally just running my horse through fields I've already explored and dying repeatedly trying to throw bombs at powerful enemies I have no business fighting and taking the slow way through enormous canyons. Freed of the burden of reviewing the game, I am playing it like a crazy person. I have spent a lot of time saving my game and then doing something patently idiotic, like testing the game's fall damage, or climbing different paths up the same mountain. All of which is to say that I am not very far (cough, zero Divine Beasts accounted for), but I am utterly, stupidly in love with the game in a way I haven't been in ages.
I do not use the term "love" lightly—what I feel is more than a mere desire to play the game more, which can happen with any old shooter or RPG. It's an intense affection for the game's sense of quiet, its easygoing visual splendor, and its gradual reveal of a majestically tuned set of systems. It's the most fun I've had playing a Zelda game since Twilight Princess (I know, weird pick), but, moreover, because of its quietly revolutionary re-envisioning of open-world game design, I'd say it's the most important since Ocarina Of Time. Because it manages both of those feats at once, I'm apt to say it seems like the best game in the series, with the caveat that I still have many, many hours of play ahead of me. I also loved Skyward Sword at this point, but by the time I was done I couldn't stand that game.
Matt, you've felled Ganon and seen a lot more of Hyrule than I have. Where would you rank Breath Of The Wild among the hallowed Zelda games?
Matt Gerardi: With Breath Of The Wild being such a different beast from everything that's come before it—save the original NES game and Wind Waker—it's a difficult comparison to make, but I'm tempted to say it's my favorite in the series, too. I'm not the world's biggest Zelda fan, and the ones I prefer are typically the jauntier outings, like Wind Waker and Link's Awakening. Personality wise, Breath Of The Wild is a far cry from those light-hearted adventures. It has plenty pluck of its own, especially when it comes to the weirdos Link meets across this post-apocalyptic Hyrule, but that kooky Nintendo charm is really just the secret sauce that brings everything together.
G/O Media may get a commission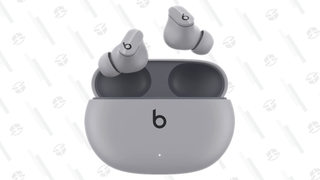 Like you, I found myself enjoying Breath Of The Wild more than anything I've played in a very long time, Zelda or otherwise. I can't even remember the last time a game made me feel this way: appreciative of the scope, ambition, and attitude of it all while also constantly erupting with pure childlike glee. I tend to think that when you're experiencing a landmark, an all-time great, as you put it, it's more of an intuitive gut feeling than a conscious critical one (that part comes later with consideration and reflection), and that's what playing Breath Of The Wild for the first time, unsullied by reviews and rampant GIFs, gave me.
You mentioned how it quietly revolutionizes open-world game design, and I'm right there with you. As someone who's been writing about the homogenization and over-indulgence of this genre for a few years now, Breath Of The Wild is a stunning reconfiguration of what it is and how it functions. And the fix is such a simple one: You can give players a humongous world and a map to keep track of what's in it, but let us fill it in. Instead of doing the work for us, let us spot something curious in the distance and mark it with a little icon on our map. Instead of making you feel like a chump who's brainlessly chasing quest markers, it makes you feel like a brave explorer who's charting their way through this fantasy kingdom, free to climb any mountain or paraglide to the bottom of any gorge and find the weird stuff waiting there.
Clayton: With all my grousing about "map games" recently, how funny is it that a game that centralizes the map immediately revolutionizes the form? There are a lot of visual markers of progress in BOTW, but one of my favorites is the map itself, which I find myself poring over, leaving it dog-eared and stamped to my specifications. And I know I earned all of those new locations, sometimes through cunning and derring-do but more often by eating mountains of food, saving repeatedly, sprinting like an insane person, and striking upon some sheer idiot luck.
The whole thing feels modern in a way I just never expected from a Zelda game. I hate to compare anything to Dark Souls, because it's such a cliché, but it's hard not to see its fingerprints here. Of all the many games to be inspired by that one, few had the combination of a world worth exploring and the sense of accomplishment the player would feel by conquering that world. But as much as I love the Souls games, there's an unpredictability to Breath Of The Wild's systems, the underlying rules of how everything in its world can and does naturally interact, that the repeated enemies of even Bloodborne can't match. And—this is big, at least for me—BOTW accommodates my brand of idiocy. I have beaten most of the Souls games through a blend of white-knuckle combat chops and sprinting like a coward from bonfire to bonfire. I beat them, in other words, but not on their terms, not the way they were designed to be beaten. BOTW taps into the core promise of open-world games by being not just physically open but played open. That's that ineffable Nintendo design touch.
When playing BOTW, it's also impossible to shake another one of those oft-cited "influences" that you rarely see emulated convincingly: Shadow Of The Colossus. Many games have "large bosses" or "ruins," but few have the same wind-swept, sun-baked, deeply believable architectural refuse of that game. Breath Of The Wild squares up Fumito Ueda's triumph and seems to almost effortlessly outdo it. From on high, the world looks almost puckishly approachable, until you land and find yourself battling for 30 minutes through a forest because you saw an empty building that looked interesting. Blank space like this takes courage; to make it beautiful takes a rare genius.
Matt: It does have lots of modern influences, but it's also unlike anything I've ever played in a way that made me think about and reconsider gaming as a whole. It comes down to the physicality of the world around Link. It has a presence and tangibility that games never do, where even the most well-defined settings act more as backdrops for your exploits than as actual spaces whose every inch can be, and is meant to be, touched. Even something like Skyrim, which I think comes closest to BOTW's wonder-filled open world, doesn't provide that kind of tactility. By comparison, its environment is cold and distant. If you see a mountain, you can maybe climb it, but if the developers didn't intend you to, then it's going to be a whole lot of mashing on the jump button as you cheat your way to the top. There's none of that in Breath Of The Wild. All of it is for you.
Do I think the likes of Ubisoft and Warner Bros. Interactive will feel compelled to reassess their glut of open-world releases after the success of this one? No, probably not. BOTW feels like an achievement whose merits should ring throughout the industry, a sign that games have gone too far afield in an attempt to give players things to do that they have forgotten how thrilling it is just to be left alone in a magical place. But at the same time, it's such an all-encompassing, singular creation that I can't see it being replicated by anyone, Nintendo included. Whatever comes next for Zelda, I can't imagine it'll look anything like this. (My dream follow-up would be if Nintendo revisited its original concept for Wind Waker, which was basically Breath Of The Wild by sea, and used modern technology to finally realize its potential.)
And that's also part of what makes me think we're in the midst of crowning a new entrant into the video game canon. Especially these days, where game development is so expensive that nothing can be allowed to stand on its own, Breath Of The Wild is a beautifully complete thought, with a world that couldn't be rearranged or replaced for a quick sequel and sights so grand they can't be replicated.
Clayton: It does feel really complete and self-contained—that's part of that immediate, all-time great feeling. But I have also found myself thinking about its follow-up. I have sort of fondly hoped for one of those rare Nintendo one-two punches, like Ocarina Of Time in 1998 followed by Majora's Mask in 2000, or Super Mario Galaxy in '07 and its sequel in 2010—where they spent a lot of time refining and creating a new set of systems for the first game, then were able to immediately crank out a weirdo follow-up. Maybe they'll find a use for Motorcycle Link?
It also has me unduly interested in Super Mario Odyssey. One of my favorite factoids is that Super Mario 64 and Ocarina Of Time were developed at the same time, and that puzzles and systems designed for one would often find their way into the other. After many years of working on this game, they've cracked the nut on how Nintendo does open-world design, so seeing how that plays out in the frankly terrifying realm of New Donk City should be fascinating.
But anyway, enough speculation. Time for the big one: Where does Breath Of The Wild fit into your all-time video game canon? Define that as you see fit.
Matt: The fact that we felt it was necessary to even have this conversation speaks volumes, doesn't it? I think Breath Of The Wild is one of the biggest achievements the industry has produced in a very long time. I can throw plenty of knit picks its way—about how cooking should be a snappier process or how managing your inventory can be a nightmare or how the "Tests Of Strength" are an absolute bore—but those are meaningless in the face of what Nintendo has created: a game that delivers on the promise of this medium in ways I never even imagined. It's a game this form needed right now, at this very moment. It's a manifesto for giving control back to players, for making games mysterious and dangerous again, and I think the rapturous reception proves how necessary that was. As I alluded to earlier, I don't think it'll be the redefining event Ocarina Of Time was, if only because it's just so damn complete and inimitable, but it's going to be a benchmark for games of this ilk for many years to come. And as someone who's played both Horizon: Zero Dawn and Mass Effect: Andromeda after Breath Of The Wild, let me tell you something: It's hard to go back.
Shorter version: I'm not going to say it's my favorite game of all time or the best game ever made, but I do think it belongs alongside canonized classics—from this series, from Nintendo, and from the medium as a whole.
What's your take, Clayton?
Clayton: I'm glad you brought up faults, because you're right, it's not a perfect game, of course. I agree with all of the ones you listed, and, while it feels a little gauche to say this, the frame-rate hitches are a real problem.
As for where it lands on an all-time list? Games are still changing so much that this sort of question is always hard to answer. I truly think we've yet to hit a real sustained golden age, which is part of what makes the medium so exciting. That being said, one of my nerdiest predilections is to always have a shortlist of favorites by medium by decade. (Ask me sometime about my favorite rappers of the '00s!) In games, the 2010s have so far created six masterpieces, by my reckoning: Super Mario Galaxy 2, Red Dead Redemption, The Last Of Us, Limbo, Inside, and The Witcher 3. For its formal designed excellence and its combination of painterly visuals, minimalist music, and bright tactility, I have no problem slotting Breath Of The Wild in among that list. That doesn't mean it's necessarily my favorite game of all time, nor the best—but, well, it's not not that, either. Now I just need to get into one of these Divine Beasts.